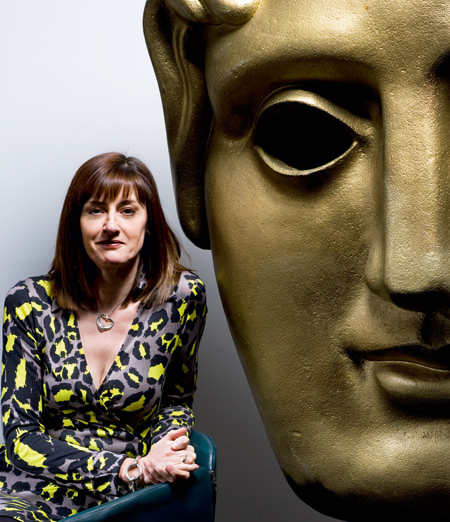 Amanda Berry, CEO at BAFTA
To coincide with International Women's Day, which is today the 8th of March, Women in Film & TV along with Screen International and Broadcast have released the top 50 women of power in the television and film industry in 2012.
Kate Kinninmont, WFTV chief executive, says that in "true womanly style" the list is not arranged in any order. The list covers the off-screen executives who run organisations as well as on-screen talent. Overall, there are 21 executives, 14 producer/directors, 11 on-screen talent, and four writers. As reported in the Guardian, it does leave the list open to questions regarding who has been left off as well as the lack of women from ethnic backgrounds in several of the categories.
Executives
Elaine Bedell, director of comedy and entertainment ITV
Jana Bennett, president of worldwide networks and global iPlayer, BBC Worldwide
Amanda Berry, chief executive officer, Bafta
Helen Boaden, director, BBC News
Barbara Broccoli, producer, EON Productions
Dinah Caine, chief executive officer, Skillset
Eileen Gallagher, chief executive, Shed Productions
Sara Geater, chief executive officer, Freemantle Media UK
Janice Hadlow, controller, BBC2
Jay Hunt, chief creative officer, C4
Christine Langan, creative director, BBC Films
Lucy Lumsden, head of comedy, Sky
Laura Mackie, director of drama, ITV
Elisabeth Murdoch founder & chief executive, Shine Group
Amanda Nevill, chief executive officer, BFI
Denise O'Donaghue, managing director, ITV Studios
Jane Root, chief executive, Nutopia
Tessa Ross, controller, Film 4 and C4 Drama
Lisbeth Savill, head of Film & TV, Olswang
Caroline Thomson chief operating officer, BBC
Sophie Turner Laing, managing director of Entertainment & News, Sky
Producers/ directors
Andrea Arnold, film director – Wuthering Heights
Vanessa Berlowitz, series producer, Frozen Planet, BBC Natural History Unit
SJ Clarkson, TV director – Dexter Finola Dwyer Film Producer – Quartet (post-production)
Debra Hayward, film producer, founder — Monumental Pictures
Elizabeth Karlsen, film producer – Great Expectations, Byzantium (both in post-production)
Phyllida Lloyd, film director – The Iron Lady
Alison Owen Producer (Ruby Films) – Jane Eyre Nira Park Producer (Big Talk Productions) – Attack the Block
Norma Percy, TV documentary producer – Putin, Russia and the West
Lynne Ramsay, film director – We Need to Talk About Kevin
Moira Ross, TV producer – Head of Entertainment, Wall to Wall
Nicola Shindler, founder (Red Productions), executive producer – Scott and Bailey, Exile, Bedlam
Sue Vertue, producer (Hartswood Films) — Sherlock
Talent
Helena Bonham Carter, actress
Alex Crawford, Sky News correspondent
Naomie Harris, actress
Miranda Hart, actress/performer
Keira Knightley, actress
Carey Mulligan, actress
Sue Perkins, TV presenter
Dame Maggie Smith, actress
Tilda Swinton, actress
Kirsty Wark, journalist/ TV presenter
Kate Winslet, actress
Writers
Moira Buffini, writer – Jane Eyre, Byzantium (post-production)
Jane Goldman, writer – The Woman in Black
Abi Morgan, writer – Shame, The Iron Lady
Heidi Thomas, writer – Upstairs Downstairs
For regular news, updates and opportunities, follow us on Twitter at @Scene_TV and 'Like' the Facebook page: www.facebook.com/SceneTV