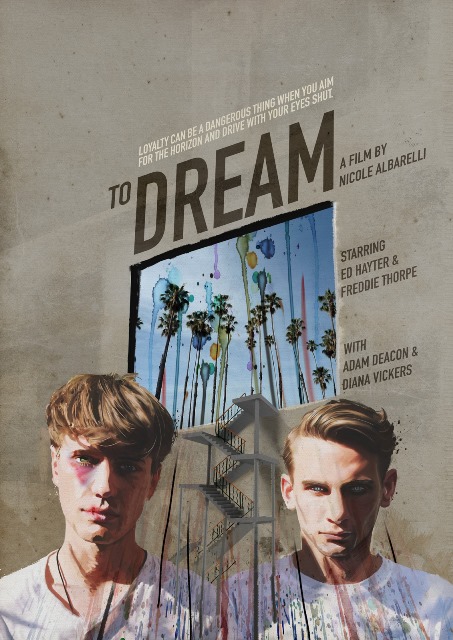 Nicole Albarelli's debut feature, starring Ed Hayter, Freddie Thorp, Adam Deacon and Diana Vickers, will premiere at the British Urban Film Festival in September.
In To Dream, Ed Hayter and Freddie Thorp star as two self-destructive teenagers who won't let anything come between their friendship and their ultimate plan. But when dysfunctional family life becomes intolerable, loyalty leads one to make a choice that will change their lives forever. Adam Deacon (Anuvahood) and previous X-Factor finalist Diana Vickers also star in the Neo-noir drama from first-time director Nicole Albarelli, born in Baltimore but now residing in London. The movie marks the screen debut of Freddie Thorp who has just completed filming for upcoming Hollywood blockbuster Overdrive, starring alongside Sean Eastwood, son of actor Clint Eastwood. To Dream also marks Adam Deacon's return to the big screen after a 2 year hiatus. Deacon won the BAFTA rising star award in 2012. Watch the teaser-trailer below.
Festival director, Addie Akinrinade said: "To Dream is one of those urban, English, drugs, sex, rave, drink, gritty films. It's well written, very natural and real. Adam Deacon is brilliant as usual, the two leads are fantastic and Diana Vickers does amazingly".
The full festival programme for BUFF 2016 (including over 40 selections) will be released on 21 July. To Dream will receive its' UK premiere at Odeon Camden Town on 14 September and the festival runs until 20 September. For a schedule, visit www.britishurbanfilmfestival.co.uk