Ava DuVernay, Chadwick Boseman, Sterling K. Brown, Julie Dash…
These are only a few of the names who will be appearing at the 21st annual Urbanworld Film Festival, taking place in New York on the 20-24th of September. The slate of 80 official selections represents the broadest lens of diversity across stories, characters, themes and cultures and expands the definition of urban beyond ethnicity to include sensibility, culture and proximity.
Festival Director and Head of Programming, Gabrielle Glore said: "Our 2017 slate reflects an even deeper variety of content including new categories animation shorts, web originals and music videos in response to the changing landscape inspired by the cross-cultural community of makers and innovators…We are proud that Urbanworld remains 'THE' destination for storytellers and studios to connect with a viewing audience as we continue to take a lead role in inclusion, highlighting distinct voices and elevating content creators with diverse backgrounds."
Highlights of the festival include daily spotlight presentations.
BET's Tales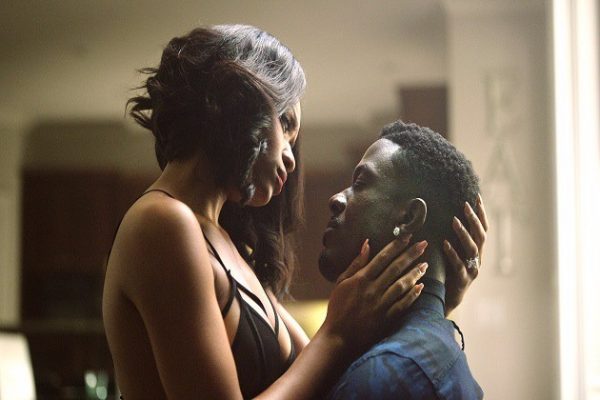 Legendary music executive Irv "Gotti" Lorenzo redefines the music genre with BET's Tales, a scripted anthology using lyrics of classic and current hip-hop songs and reimagines them into mini-movies. Fetty Wap's Trap Queen will serve as the thematic backdrop of the episode that will screen at the festival on Thursday, September 21 at 8:00 p.m. Lorenzo will participate in a Q&A immediately following the screening of the episode.
Baltimore Rising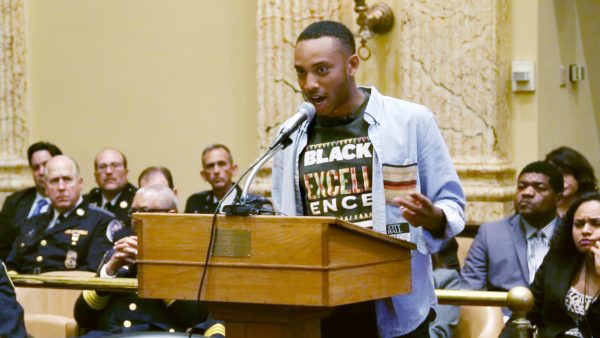 Directed by The Wire actor Sonja Sohn, the thought-provoking HBO documentary Baltimore Rising, will be showcased on Friday, September 22. The filmmaker follows activists, police officers, community leaders and gang affiliates who struggle to hold Baltimore together, in the wake of Freddie Gray's death, even as the homicide rate hits record levels, and explores how to make change when change is hard.
Queen Sugar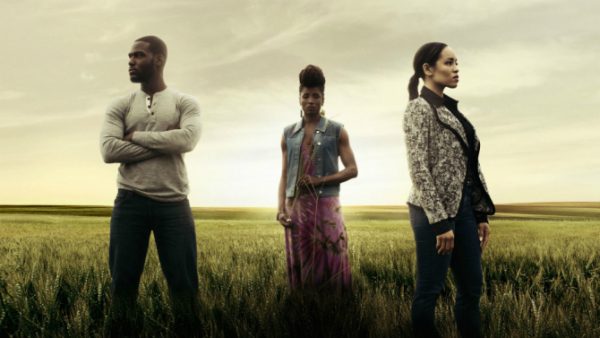 Renowned filmmaker Ava DuVernay returns to the festival on Saturday, September 23 at 5:00 p.m. to debut the midseason premiere of Queen Sugar. In the contemporary drama on OWN: Oprah Winfrey Network, the Bordelon siblings struggle to move forward with their lives as they strive to honor the legacy of their father following his unexpected passing. Immediately following the screening, series stars Rutina Wesley, Dawn-Lyen Gardner and Kofi Siriboe will appear in conversation with DuVernay along with legendary director Julie Dash, who joins the second straight season of an all-female directorial team handpicked by DuVernay.
Marshall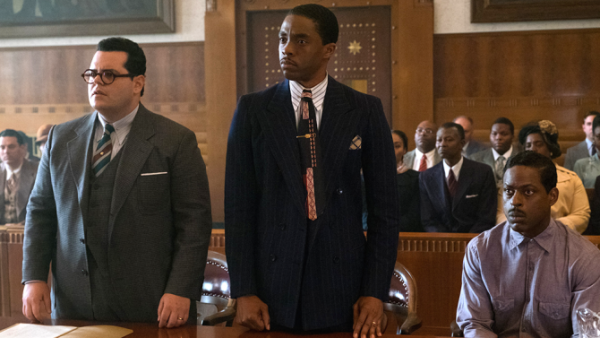 The U.S. premiere of Marshall will close the festival on Saturday, September 23 at 8:00 p.m. Long before he sat on the United States Supreme Court or claimed victory in Brown v. Board of Education, Thurgood Marshall (Chadwick Boseman) was a young rabble-rousing attorney for the NAACP. The film marks the true story of his greatest challenge in those early days – a fight he fought alongside attorney Sam Friedman (Josh Gad), a young lawyer with no experience in criminal law: the case of black chauffeur Joseph Spell (Sterling K. Brown), accused by his white employer, Eleanor Strubing of sexual assault and attempted murder. Award-winning journalist Tamron Hall will moderate a Q&A with Boseman, Brown, Gad and Academy Award® nominated director Reginald Hudlin immediately following the screening of the film.
Other talent confirmed to appear during the festival includes Jeffrey Wright, Melvin Van Peebles, Gabourey Sidibe, Jamie Hector, Susan Kelechi Watson, Ledisi, La La Anthony, Mustafa Shakir, Saycon Sengbloh and LaTanya Richardson-Jackson.
Urbanworld Digital will return to deliver a series of thought-provoking conversations, covering a range of topics including global opportunity, the convergence of content and technology and diversity in the industry on Thursday, September 21, 2017 at 1:00 p.m. at the HBO Theater on 1100 6th Avenue. The event has been presented by HBO since 2010 with festival filmmakers, digital influencers, executives, entrepreneurs and content creators attending annually.
Dennis Williams, Senior Vice President, Corporate Social Responsibility at HBO said: "As the platforms and mediums for content, communication and interaction evolve at an unprecedented pace, they continue providing and opening unique opportunities to amplify and elevate remarkable voices from a wide array of talented multicultural storytellers. HBO is delighted to host the seventh annual Urbanworld Digital, which provides precisely this forum to explore the convergence of creativity, media and technology."
Along with founding partner HBO, key supporters include prestige partner BET Networks as well as premiere partners Comcast NBCUniversal and OWN: Oprah Winfrey Network. Industry partner supporters include Time Warner, Warner Bros., Stage 13, Urban Movie Channel, AMC Independent, Directors Guild of America and Writers Guild of America East. New York Amsterdam News serves as a media partner.
Tickets and passes for the festival are on sale now so head over to www.urbanworld.org for more information. Also, follow @UWFilmFest and #UW21 to join the conversation. See below for a full list of events.
SPOTLIGHT PRESENTATIONS
Marshall – Directed by Reginald Hudlin – Presented by Open Road Films
Baltimore Rising – Directed by Sonja Sohn – Presented by HBO
Tales: Trap Queen – Directed by Benny Boom – Presented by BET Networks (World Premiere)
Queen Sugar – Directed by Julie Dash – Presented by OWN: Oprah Winfrey Network (New York Premiere)
Released – Presented by OWN: Oprah Winfrey Network (New York Premiere)
Double Play – Directed by Ernest Dickerson (U.S. Premiere)
Blackout (Alumni Spotlight – 10th Anniversary) – Directed by Jerry LaMothe
THE REVOLT YOUNG FILMMAKERS SHOWCASE
Curiosities of the Quiet Boy – Directed by Quran Squire (New York Premiere)
Laced – Directed by David Fortune (World Premiere)
Night – Directed by Joosje Duk (New York Premiere)
Role Model – Directed by TJ Noel-Sullivan (New York Premiere)
Sad Mobius – Directed by Kiho Song (World Premiere)
Khiluana (Toy) – Directed by Rajat Agrawal (World Premiere)
U.S. NARRATIVE FEATURES
Alaska Is A Drag – Directed by Shaz Bennett (East Coast Premiere)
Bruce!!! – Directed by Eden Marryshow (New York Premiere)
Covers – Directed by Malcolm M. Mays (World Premiere)
Quest – Directed by Santiago Rizzo (U.S. Premiere)
Shine – Directed by Anthony Nardolillo (World Premiere)
The Price – Directed by Anthony Onah – Presented by Samuel Goldwyn (East Coast Premiere)
Varsity Punks – Directed by Anthony Solorzano (East Coast Premiere)
WORLD NARRATIVE FEATURES
Brown Girl Begins (Canada) – Directed by Sharon Lewis (World Premiere)
Cargo (Bahamas) – Directed by Kareem J. Mortimer (New York Premiere)
Catching Feelings (South Africa) – Directed by Kagiso Lediga (East Coast Premiere)
Moko Jumbie (Trinidad & Tobago) – Directed by Vashti Anderson (East Coast Premiere)
Stay (Japan) – Directed by Darryl Wharton-Rigby (World Premiere)
Tourments D'Amour (France) – Directed by Caroline Jules (New York Premiere)
DOCUMENTARY FEATURES
Behind the Curtain: Eclipsed – Directed by Collins J. Harris IV – Presented by BET International (New York Premiere)
Coach Jake – Directed by Ian Phillips (World Premiere)
Geek Girls – Directed by Gina Hara – Presented by Women Make Movies (U.S. Premiere)
Milwaukee 53206 – Directed by Keith McQuirter
Speaking Tongues / Somos Lengua – Directed by Kyzza Terrazas (East Coast Premiere)
Teach Us All – Directed by Sonia Lowman – Presented by ARRAY (East Coast Premiere)
Word Is Bond – Directed by Sacha Jenkins – Presented by Saboteur (World Premiere)
NARRATIVE SHORTS
Ablution – Directed by Omar Al Dakheel (World Premiere)
AKASHI (あかし) – Directed by Mayumi Yoshida
Atone – Directed by Damon L. Smith (East Coast Premiere)
Big City – Directed by Jordan Bond and Lachlan Ryan
Hijo por Hijo (Child For Child) – Directed by Juan Avella (New York Premiere)
Cocoon – Directed by Mei Liying
Covered – Directed by Desha Dauchan (New York Premiere)
Dayton Jones – Directed by Nelson George (World Premiere)
Emergency – Directed by Carey Williams
Flip the Record – Directed by Marie Jamora
Fractured – Directed by Arnold Chun (East Coast Premiere)
French – Directed by Josza Anjembe
Just Go – Directed by Pavels Gumennikovs (New York Premiere)
Last Looks – Directed by Cierra Glaude (World Premiere)
Lunch Time – Directed by Alireza Ghasemi (New York Premiere)
Oscar Micheaux – Directed by JD Walker (U.S. Premiere)
Out Again – Directed by Robin Cloud
Search Party – Directed by Tesia Walker
Shadow of Man – Directed by Kristof Sagna (U.S. Premiere)
Silence Radio – Directed by Kartik Singh (U.S. Premiere)
So Far From God – Directed by Bret Polish (World Premiere)
Something More Banal – Directed by Shalini Adnani
Suitable – Directed by Thembi Banks (U.S. Premiere)
The Tale of Four – Directed by Gabourey Sidibe (New York Premiere)
Teachers – Directed by Mark Columbus (World Premiere)
The Bill – Directed by Caralene Robinson (New York Premiere)
The Jump Off – Directed by Jovan James (World Premiere)
The Middlegame – Directed by Kristen Hester (World Premiere)
The Paris Project – Directed by Tamara P. Carter (World Premiere)
Vernon Walks – Directed by Santiago A. Zannou (U.S. Premiere)
DOCUMENTARY SHORTS
Waiting for Hassana – Directed by Ifunanya Maduka
Alone – Directed by Garrett Bradley
ANIMATION SHORTS
Victor & Isolina – Directed by William D. Caballero
Sophia – Directed by Zsofia Opra-Szabo
Mosquito: Bite of Passage – Directed by Brian Vincent Rhodes and Eric Cheng
WEB ORIGINALS
Docket 32357 – Directed by Randy Wilkins (East Coast Premiere)
High And Mighty – Directed by Carlos Lopez Estrada (East Coast Premiere)
I Love Bekka and Lucy – Directed by Rachael Holder (East Coast Premiere)
Independent – Created by We Are Famous (East Coast Premiere)
MUSIC VIDEOS
Beautiful Soul (Featuring Elán Varner) – Directed by Jac Benson II(World Premiere)
Know Your Worth (Featuring Halima Akinlade) – Directed by Emily Gurland
Can I Exist (Featuring Missio) – Directed by Jeff Ray
Sunday Saxon (Featuring Old Man Saxon) – Directed by Anthony Yano Hays
SCREENPLAYS
Amber's Alert – Written by Thada Catalon
Eliza – Written by Kym Mosley
Pale Horse – Written by Chris Courtney Martin
Muted – Written by Brandi Nicole Payne
For the latest TV news and opportunities, follow @Scene_TV on Twitter and join the mailing list here.