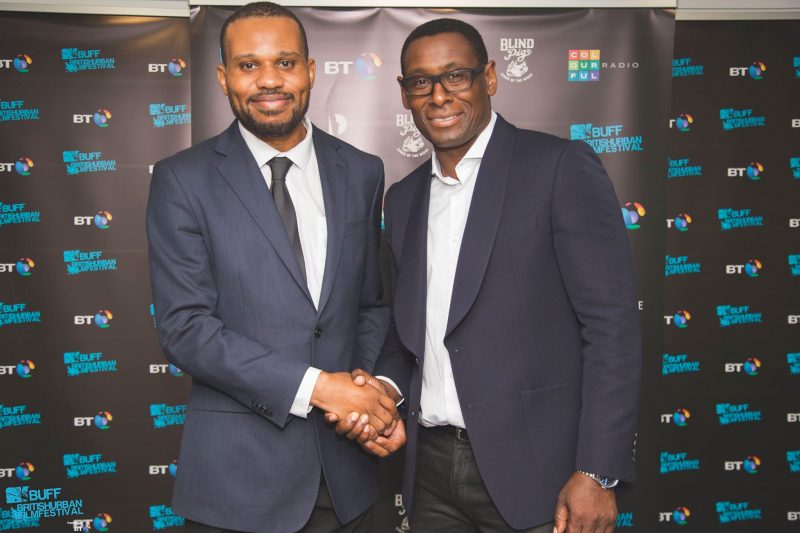 Buff CEO Emmanuel Anyiam-Osigwe pictured with actor David Harwood at the 2017 event.
The 13th British Urban Film Festival is looking for its next line-up of selections and your film or script could be one of them. Patrons of the annual event include Ashley Walters, Adam Deacon, Femi Oyeniran and Kyla Frye.
See below for key guidelines:
Scripts must be no less than 20 pages and no more than 90.
Drama/Documentary Film must be no less than 40 minutes and no more than 120.
Short Films and/or webisodes must be no less than 3 minutes and no more than 60.
All Music, Spoken Word, Dance & Movie Image videos must be no less than 3 minutes.
Fees are non-refundable at £18 – no discounts, no waivers. Script submissions (with feedback from the script judges) are non-refundable at £30.
The early bird deadline for submissions is 11.59pm, Monday 1st January 2018.
The final deadline for submissions is 5.00pm, Friday 2nd February 2018.
Submission fees for scripts and films will rise to £50 from Tuesday 2 January 2018 onwards.
Full submission requirements including terms and conditions can be found at www.britishurbanfilmfestival.co.uk/submissions
Only shortlisted submissions will receive further emails or phone calls from Team BUFF after selections are announced in March 2018. Unsuccessful submissions will not be notified.
All shortlisted submissions must comply with the festival's screening embargo guarantee. This means that from 8th March – 26 May 2018, the film cannot be screened online, on-air, digitally or on any other theatrical platform in the UK. For successful films who make the festival shortlist, Blu-Ray DVD masters, 5 publicity stills, an official trailer + 50 word synopsis will be required. All shortlisted films will pre-qualify for eligibility to win a British Urban Film Festival award in 2019 although not all shortlisted films will be nominated. All shortlisted films will be considered for theatrical distribution in sole conjunction with BUFF. Previous BUFF film selections can currently be seen on London Live until Spring 2018 (courtesy of AAA Film & TV).
For succesful scripts, all will be issued with a two year licensing deal, committing AAA Film and TV as a producer of the script if it goes into production. The final shortlist of 3 scripts will be eligible to receive a British Urban Film Festival award in 2018.
For more information and to submit your film or script, visit www.britishurbanfilmfestival.co.uk and follow the conversation on Twitter using the hashtag #RaceToBUFF2018.
Follow @Scene_TV on Twitter and join the mailing list here for the latest news and opportunities.