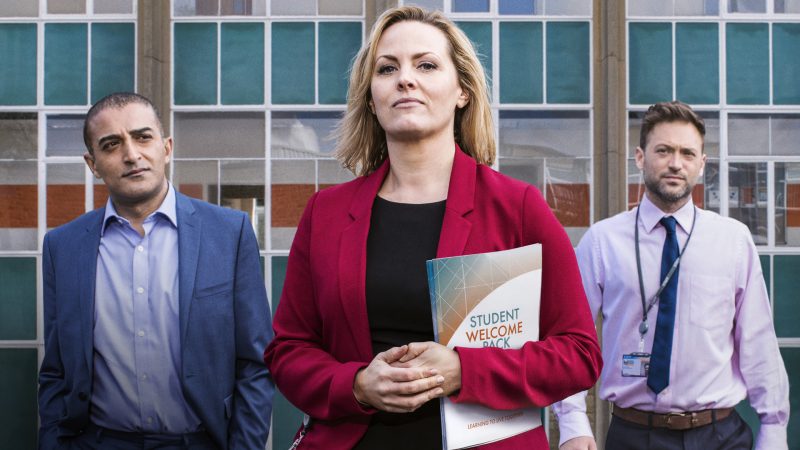 Following a successful launch last year, Northern-based drama Ackley Bridge returns for a second series on Channel 4. Starring Jo Joyner, (EastEnders), Sunetra Sarker (Brookside, Casulty), Paul Nicholls (EastEnders, The Fear), Adil Ray (Citizen Khan) and young actors Poppy Lee-Friar and Amy Leigh-Hickman, the series is set the fictional Yorkshire mill-town of Ackley Bidge, which is home to a largely divided white and Asian population. Like the communities, the school systems had previously become segregated, but that all changed in series one when two formerly isolated comprehensives are merged into the brand new academy, Ackley Bridge College. Check out the trailer for the new series below.
It was created by Ayub Khan Din (East is East), Kevin Erlis (Shameless) and Malcolm Campbell (Shameless, What Richard Did). Produced by The Forge, the Executive Producers include George Ormond (National Treasure, Great Expectations), George Faber (Shameless, Skins), Ayub Khan Din and Malcolm Campbell with Alexander Lamb (Eastenders, Waterloo Road) serving as Producer.
Beth Willis, Head of Channel 4 Drama says, "Roll on the next term at Ackley Bridge! Channel 4 is so thrilled to be working again with the brilliant producing and writing team at The Forge and the super talented cast on this funny, thoughtful, incredibly special show. I'm bagging a seat at the front of the class"
George Ormond, Executive Producer, says, "We're over the moon that Ackley Bridge has connected so well with the audience, and our writing team is already brimming with stories for 12 more punchy, funny, surprising episodes."
Ackley Bridge returns to our screens very soon.