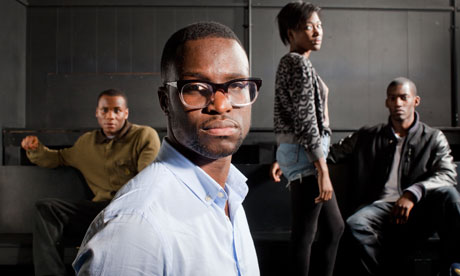 Reposted from The Guardian
In 2003, with just a few hundred pounds, actor Femi Oguns set up Britain's first 'black' drama school. It's now a powerhouse in the promotion of black talent to the entertainment industry here and abroad.
Sandwiched between a hipster pub and an empty shop front, you are likely to hear the Identity Drama School in east London before you see it. As I loiter outside, the passing traffic is punctuated with the hubbub of student recitals, which filter down from the window above. It may not compete with Rada's lavish Bloomsbury setting or Lamda's 150-year-old history, but what goes on behind these walls serves an arguably more vital and immediate purpose than any of the country's more established drama schools.
Inside, a class of students line up, their backs pushed up against the walls of the studio, the room already thick with the warmth and odour of hard work. "In," bellows the vocal coach as he strides around the space. The students inhale. Eyes shut. Focused. He counts four beats. "Out," he says. The students exhale. "Sha," he calls. "Sha," they reply in unison. It's a fairly routine vocal warm up, so what is going on here that's unique?
It's simple. All the students present are black. Set up eight years ago, Identity is Britain's first "black" drama school and, partnered with its talent agency, IAG in Covent Garden, and a sister school in Birmingham, is fast becoming a powerhouse in the promotion of black and minority ethnic talent to the entertainment industry, both at home and abroad.
Sitting beside me as we observe the vocal coaching, which has now progressed from breathing to enunciation – "from the banks of Miss-iss-ip-pi to the Lake Ti-ti-ca-caa," – is founder of the school and agency CEO, Femi Oguns. An actor by training, Oguns set up the school in 2003 with a few hundred pounds he had set aside, a fistful of flyers and a dedicated vision.
"It has that Hollywood rags-to-riches feel about it, I guess," he says. "When I started, I got students by handing out flyers in areas such as Stratford, Hackney, Islington and Brixton, offering drama classes for free. I remember writing on the flyer, 'Would you like to be taught by acting coaches who've acted in EastEnders, Prime Suspect, Silent Witness, The Bill?' And in reality, there was only one acting coach, and that was me."
Now the schools boast a collective intake of 350 pupils, aged between 12 and 60 (and a range of ethnicities), but is yet to receive a penny of public funding. We flit around the building's four studios, gatecrashing improvisations, rehearsed readings and experimental sessions as we go.
All the students wear uniforms bearing the school's emblem, with "actor" emblazoned in bold on the back. It is a well-oiled machine and a calm respect exudes from pupils and teachers when Oguns walks into each room. "A disciplined environment is a creative one," he says.
So why the need to set it up in the first place? Oguns, 34, who grew up in west London, is convinced that there is a deficit in the minority talent being picked up by mainstream drama schools, and that which is left remains untrained.
"For me it begged the question: what happens to the others who don't get in? Rather than dwelling on it for too long, I decided to set up a school. I was always brought up with the philosophy of not waiting for change to happen, but creating it instead."
Continue reading Britain's First 'Black' Drama School Featured in The Guardian →