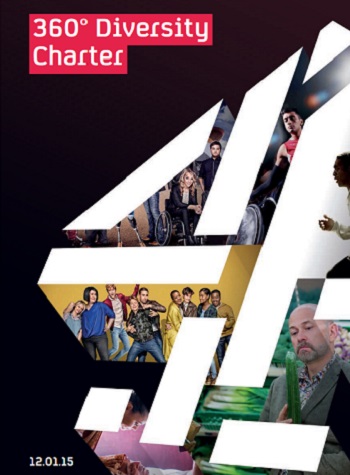 Channel 4 has set out a major commitment to leadership in diversity at every level of the organisation with the launch of its 360° Diversity Charter at an event held in Parliament on Monday 12th January.
The 360° Charter puts diversity at the heart of all decision making at Channel 4, across all activities on and off-screen, at every level and with all external partners and independent producers. It includes 30 significant activities worth £5m of investment and covers a wide definition of diversity including BAME, disability, LGBT, gender and social mobility.
Headline activities within the Charter include the launch of Channel 4's Commissioning Diversity Guidelines, the introduction of new in-house diversity targets for Channel 4 staff and leadership, the funding of seven diverse Deputy Commissioning Editors, and investment in a new generation of disabled production talent for the Rio 2016 Paralympics.
David Abraham, Channel 4's Chief Executive said: "Diversity is baked into Channel 4's DNA and our remit – it's vital that we are open to the widest variety of voices, and that we nurture new talent from all backgrounds and reflect all of contemporary Britain.
"We have a rich heritage in pioneering programming that has reshaped how we think about diversity from Desmond'sand Queer as Folk through to the 2012 Paralympics, but like all media organisations, there is more we can do.
"The launch of our 360° Charter is an opportunity for us to change how we think about diversity and ensure that it's at the very heart of everything that we do, on and off-screen.
"It's a complex area but our goal is to create meaningful and long term change and I believe the commitments we're setting out today are a significant moment in the history of Channel 4."
The commitments outlined in the 360° Charter include: