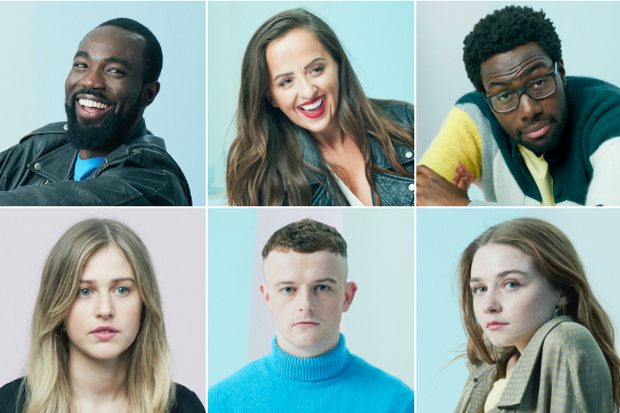 L-R/ T-B: Papa Essiedu, Luisa Omielan, Daniel Lawrence Taylor, Ria Zmitrowicz, Chris Walley, Jessica Barden.
The British Academy of Film and Television Arts (BAFTA) tonight have announced 2018's Breakthrough Brits, in partnership with Burberry, 19 of the UK's most promising future stars of film, games and television.
Breakthrough Brits is BAFTA's flagship initiative that identifies and supports the UK's next generation of creative talent. Selected by a jury of industry experts after a UK-wide open call for nominations and applications, the 2018 Breakthrough Brits will be supported by BAFTA over the next 12 months as they progress their careers.
The 2018 cohort are…drumroll please…
Adrienne Law – Games Producer
Annie Price – Presenter
Chris Walley – Actor
Daniel Kokotajlo – Writer/Director­­­
Daniel Lawrence Taylor – Actor/Writer
Ellena Wood – Director
Fodhla Cronin O'Reilly – Producer
Harry Nesbitt – Artist and Game Developer
Jay Armstrong – Game Developer
Jessica Barden – Actress
John Campbell and Katie Goode – Technical Director & Creative Director
Lucy Cohen – Writer/Director
Luisa Omielan – Comedian
Lottie Bevan – Co-Founder & COO
Michael Pearce – Director
Paapa Essiedu – Actor
Ria Zmitrowicz – Actress
Vanessa Whyte – Cinematographer
Since the launch of the initiative in 2013, previous Breakthrough Brits have gone on to be recognised at BAFTA's awards ceremonies, including 2018 BAFTA winners Molly Windsor (Leading Actress for Three Girls); Daisy May Cooper (Female Performance for This Country) and Tom Davis (Comedy Entertainment Programme for Murder in Successville). Also in 2018, 2016 Breakthrough Brit honouree Florence Pugh was nominated for the 2018 EE Rising Star Award. Other previous Breakthrough Brits include composer Segun Akinola (Doctor Who), actress Letitia Wright (Black Panther), actor Alex Lawther (Imitation Game) and 2017 EE Rising star winner, actor Tom Holland (Spider-man: Homecoming).
BAFTA and Burberry share a joint vision of celebrating emerging British talent and giving them the tools to develop their skills at the start of their careers. Alongside one-to-one mentoring and guidance sessions, honourees also receive free access to BAFTA events for 12 months and networking opportunities in the UK and internationally.
Meet the Breakthrough Brits below:
Follow @Scene_TV on Twitter and join the mailing list here for the latest news and opportunities.