Join our mailing list for more features and opportunities like this.
The 'Countdown to Cannes' has begun for the team at Breaking Through The Lens (BTTL). This Sunday 19th May, ten female-identifying directors will pitch their projects to investors at the Cannes Film Festival in the hopes of securing finance to take their films to the next level.
This is the second year the initiative has taken place, and as a result of 2018's activities, several films were able to move into production. This year, there were over 200 applicants from 54 countries proving the global need for initiatives like this that actively bring together two important groups in filmmaking industry – financiers and creatives.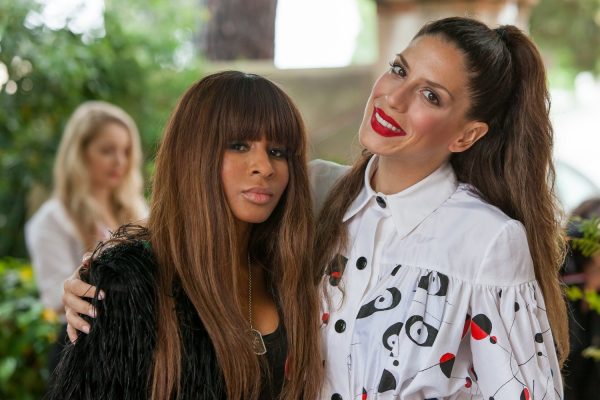 Mia Frye with BTTL co-founder Elpida Stathatou
Co-founded by Daphne Schmon, Emily Carlton and Elpida Stathatou, the trio developed the programme as a direct response to biggest barrier female directors find when it comes to progressing in the industry – access to finance. Schmon said:
"There is a clear gender imbalance at the top levels of the industry. Last year we saw 82 celebrity women stand on the steps of the Palais at Cannes in protest. There is clearly a lot of good will and talk about change. But at a certain point, talk is not enough. We wanted to create an event that focused on practical actions, connecting women directly to the investors and distributors that can help get their films made.. The three of us are filmmakers ourselves – myself a Director, Emily a Writer and Elpida an Actress. This is an event by filmmakers for filmmakers. I was stunned to see over 200 applications come in from 54 countries this year – only our second year running BTTL. These numbers are evidence of the tremendous need and appetite for an event such as this. The Jury had an impossible task to narrow this down to 10 films that will present at the Cannes Film Festival. Afterwards, participants will be connected via email to funders that show interest in their project, and every effort will be taken to help them close the deal."
And their efforts have been met with great appreciation by the final ten women selected to pitch at Sunday's event. Priscilla Anany (Carbon) said: "With Breaking Through the Lens being aligned with Cannes, arguably one of the world's most prestigious international film festivals, there was no way we were going to miss the opportunity. Now that we've come this far, we are certainly honoured."
The sentiments were echoed by Maritte Go (Binarang): "Without these initiatives, there is no way to get noticed in a sea of scripts. I find that financiers are risk averse and want to bet on projects and ideas that are proven. It can be a catch 22. So how do you get original ideas and voices out there without a platform to stand on? This initiative is one of those ways."
BTTL is also celebrated for being an initiative where age doesn't matter, standing against the slew of entry-level, age-restricted schemes in the industry which can often forget the many talented creatives above the age of 25. "As a woman over fifty, I'm really aware how limited opportunities are that aren't focused on young people….so I leap at every opportunity. I'm a big believer that even getting my name and work across a desk is a win!" said Shelley Thompson (Dawn, Her Dad & The Tractor).
The work doesn't stop after the event either. Everyone who attends will become part of the Breaking Through The Lens network, which aims to support the creatives with quarterly events focused on aiding specific stages of pre-production. It's this sense of community which has generated excitement ahead of Sunday.
"It's very important to meet other female directors in the same position and to feel the support, that someone believes in you and your project to boost your confidence – which is always needed as funding application rejections can be disheartening". Michaela Moir (A Life Electric)
Whatever happens in Cannes, there is the resounding feeling that the industry needs to do more to even out the playing field for women in film.
Rita Baghdadi (Sirens) said: "The industry needs to start recognizing female-identifying filmmakers and stories about women as valuable. We make up over half the population, so let's see more stories that reflect our experiences."
Breaking Through The Lens is doing its part. Are you?
Click here to meet the ten brilliant women who will be pitching in Cannes. For more information, visit www.breakingthroughthelens.co.uk.
Follow @Scene_TV on Twitter, @SceneTV_ on Instagram and join the mailing list here for the latest news and opportunities.