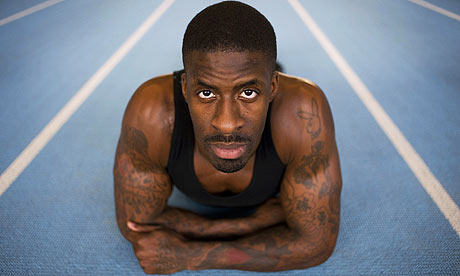 British sprinter Dwain Chambers will be the feature of a documentary by ITV1 which will chronicle the rise and fall of the athlete and look at how he is trying to make amends before 2012 London Olympic Games.
2012 Pride and Punishment has gained exclusive access to Chambers eight years from the start of his ban from competing in Olympic games as a result of taking an anabolic steroid. It will follow the spriner as he continues to train and compete while awaiting the decision regarding whether he will be able to run in the games this summer. The programme also takes a close look at the British Olympic Association's uncompromising stance on drugs in sport. The BOA byelaw, which prohibits athletes who have been suspended for more than six months from representing Great Britain at the Olympics, was recently declared 'non compliant' by the World Anti Doping Agency. It was also, WADA advised, a double sanction. Soon the two organisations will meet in the courtroom to battle it out.
It is four years since Chambers himself legally challenged the BOA over the lifetime ban. ITV Sports Editor Steve Scott goes on the road with Chambers as he races in the UK and internationally and gives an insight into the life and reflections of the sprinter today.
Part of ITV's Tonight strand, the documentary will air on March 8th, ITV1 at 7.30pm and will be executive produced by Cristina Nicolotti Squires. Natalie Fay is the series producer.
For regular news, updates and opportunities, follow us on Twitter at @Scene_TV and 'Like' the Facebook page: www.facebook.com/SceneTV