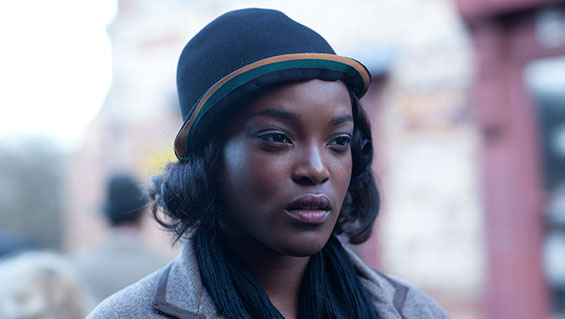 Reposted from BBC Press Centre
Toby Jones (Marvellous, The Girl), Lesley Sharp (Scott And Bailey, The Shadow Line) Wunmi Mosaku (Dancing On The Edge, In The Flesh) and Adeel Akhtar (Utopia, Four Lions) are set to star in BAFTA-winning Peter Bowker's adaptation of John Lanchester's critically acclaimed and bestselling novel Capital, produced by Kudos for BBC One.
Joined by Rachael Stirling (Detectorists, The Bletchley Circle), Gemma Jones (Marvellous, The Lady Vanishes), Robert Emms (Atlantis, War Horse), Bryan Dick (Wolf Hall, Eric And Ernie) and Radoslaw Kaim (Spies Of Warsaw, Wallander), the line-up will also include multi-award-winning Indian actress Shabana Azmi and, fresh from her Olivier award-winning role in West End musical Once, Zrinka Cvitešić.
Set on a single street in South London, Capital is a portrait of a road transformed by soaring property prices: what was once the home of modest lower-middle class families, Pepys Road has been continuously gentrified into a street of multi-million pound houses.
The denizens of Pepys Road include investment banker Roger (Toby Jones), rubbing his hands in anticipation of his £1m bonus, his spendthrift wife Arabella (Rachael Stirling), Polish builder Bogdan (Radoslaw Kaim) who has come from Warsaw to indulge the rich in their interior decoration whims, Quentina the Zimbabwean refugee with a PhD working as a traffic warden (Wunmi Mosaku), local newsagent Ahmed (Adeel Akhtar) and OAP Petunia (Gemma Jones), who has lived her entire life on Pepys Road, and who is now contemplating death in the house in which she was born.
One day, the street's residents all receive an anonymous postcard through their front doors bearing a simple message: "We Want What You Have." Who is behind the anonymous hate campaign? And what do they want?
As the mystery of the postcards deepens, we learn more about this vivid and unforgettable ensemble of characters. Interweaving stories reveal lives filled with love and loss, fear and greed, fortune and envy and most recognisable of all, family and home – stories bursting with piercing and funny observations on modern life and urban existence, of ordinary people who find themselves caught and changed by a city at a time of extraordinary flux.
Toby Jones says: "Obviously I am thrilled to be part of such a fantastic, diverse and talented cast, and also I'm excited to renew my working relationship with Pete Bowker."
Wunmi Mosaku adds: "What a treat to be working with an incredible director like Euros and so many actors I admire in a city I love! I feel so lucky!"
Derek Wax, Executive Producer for Kudos, says: "John Lanchester's wonderful, comic epic of London life, Capital, has been brilliantly adapted by Peter Bowker. I am so delighted that our production has attracted such a terrific cast."
Lucy Richer, Executive Producer for the BBC, says: "It is wonderful to see such a stellar cast starring in Capital. They are sure to bring Peter Bowker's stunning scripts to life in their portrayal of such funny, true and brilliant characters. The wealth of talent involved both on- and off-screen will cement Capital as a truly special drama for BBC One."
Directed by Euros Lyn (Happy Valley, Last Tango In Halifax), Capital is a 3×60 produced by Kudos for BBC One. Executive producers are Derek Wax (The Hour, From There To Here) and Peter Bowker (Marvellous, From There To Here) for Kudos and Lucy Richer (Marvellous, The Casual Vacancy) for the BBC. It is produced by Matt Strevens (Cucumber, An Adventure In Space And Time). Commissioned by Charlotte Moore, Controller of BBC One and Ben Stephenson, Controller of BBC Drama. Filming has begun in London.