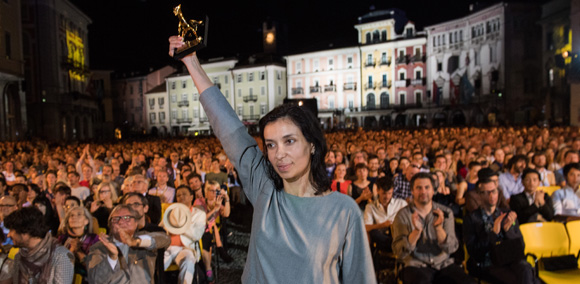 (Pictured: Ralitza Petrova, NFTS Directing Fiction graduate winning the Golden Leopard at Locarno International Film Festival in 2016 for Godless)
The National Film and Television School has announced that the 'NFTS Directing Workshop' is now open for applications and will take place in the summer 2017. The scheme is aimed at increasing the number of women and people from BAME backgrounds and those with disabilities working professionally in screen directing.
There will initially be six places available on the pilot workshop with a view to extending to 12 in future. Participants will start with a two-day introductory session in March followed by intensive training in narrative filmmaking in an innovative, four-week workshop during the summer, which will result in the production of a short film. All participants are guaranteed an interview for the NFTS' prestigious and highly competitive Directing Fiction MA. The NFTS will cover all production costs and will facilitate inter-School networking to help crew the films across all disciplines from producing to editing and sound.
The workshop is a part of the initiatives announced at the NFTS' annual fundraising Gala in 2016, which celebrated Great British Women and includes a mentorship programme for all female students on the NFTS' four MA courses in directing.
Nik Powell, director of NFTS says: "It is extremely important that filmmakers represent the society that they reflect and to this end we want our student population to be as diverse as possible, particularly in screen directing. We need to hear from all voices and perspectives to ensure the viewing audience is fairly represented and to this end, I am extremely pleased to announce the NFTS Directing Workshop and the commitment to ensure our ambitions for this programme are realised."
For more information, and to apply for the NFTS Directing Workshop, please visit https://nfts.co.uk/directing-workshop
Good luck!