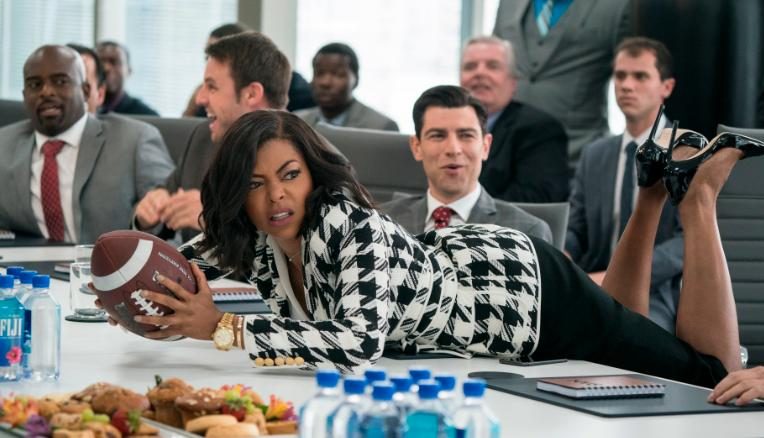 By Michelle Owusu.
I can't remember the last I laughed out loud in the cinema almost as soon as the film began. And the laughs didn't stop. This Friday 15th March, What Men Want directed by Adam Shankman, produced by James Lopez and 'hitmaker' Will Packer and starring Taraji P. Henson, hits UK cinemas. A modern update of What Women Want with Mel Gibson, bar a few similar scenarios, memories of the original soon slip away to reveal a fun and relatable caper with lessons for both sexes.
Taraji stars as Ali, a sports agent frustrated by the 'boys club' mentality amongst her boss and colleagues, especially when she's passed over for a promotion. After seeing a psychic and drinking a strange concoction, she develops a special 'gift' which allows her to hear men's thoughts…and hilarity ensues. Using her newfound ability, she sets off to play the boys at their own game in a race to sign the next basketball superstar.
Henson, is an expected stand-out. She brings so much energy to the film, you can't help but get swept away by her. The film is also particularly timely seeing as we've just celebrated International Women's Day and March is Women's History Month. Ali's struggles and frustrations are relatable, evident by the nods around the cinema every time she delivered a punchy soundbite about work as a woman. It's a sensitive topic, one that still resonates despite the chaos and comedy around it. What Men Want also poses thoughtful questions about fighting for a seat at the table and how far women and men are prepared to go for it.
It's not all high fives in the boardroom though; the film did run a little longer than needed which meant that by the end, some of the gags felt laboured and predictable. However Henson's undeniable on-screen charisma still manages to hold it together.
Overall, if you're looking for a good belly laugh this weekend, this is an easy pick for sure!
What Men Want is out in UK cinemas this Friday 15th March.
Follow @Scene_TV on Twitter, @SceneTV_ on Instagram and join the mailing list here for the latest news and opportunities.