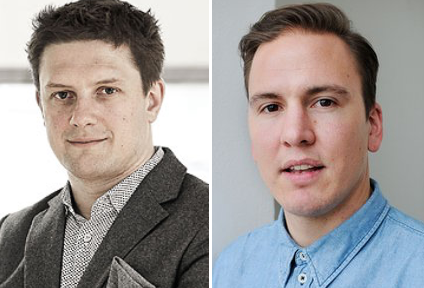 (L-R – Zai Bennett and Karl Warner)
Can you tell us a little bit about yourself and what you do?
ZB: I'm the Channel Controller of BBC Three , which means I run the channel and decide what shows to commission for BBC Three on TV as well as BBC Three content online.
KW: I'm a Commissioning Editor for Entertainment programmes at the BBC. I also Exec Produce the programmes I help commission, which range from Michael McIntyre's Comedy Roadshow on BBC1 to Junior Doctors on BBC3.
How did you get started and what have been your most favourite or proud achievements?
ZB: After finishing University I started my TV career in the post room at Carlton TV in 1996. My proudest achievement so far has been creating a family of successful channels at ITV which were hugely watched, award winning and creatively praised, something I hope to continue at the BBC.
KW: I started as a runner at Endemol when I left University and one of my proudest moments was winning my first commission as a Development Researcher at the BBC. One of my favourite moments was making George Galloway pretend to be a Cat on Celebrity Big Brother!
What makes a BBC Three programme, what qualities or elements should it have?
KW: I think they should be original and distinctive. I think it's also great when they have an attitude and a surprising new take on a subject which is made by, or features, new young, British talent. And ideally a sense of humour!
Where do you get ideas for shows and how do you involve the communities that you are creating a show about, for example programmes like My Brother The Islamist?
ZB: BBC Three offers a scheme called 'Fresh' where we invite first time directors to submit ideas for single docs. This is a very good way of getting new ideas from different perspectives. My Brother The Islamist was an idea that came to us through this scheme.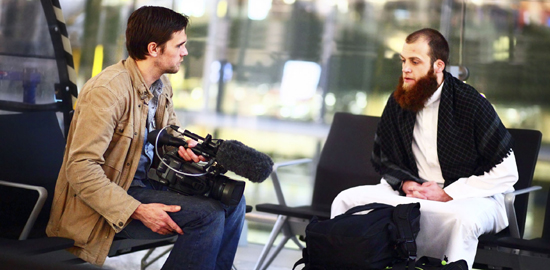 (Rights of the BBC – My Brother The Islamist)
Do you think there are enough positive images of young people in the media and how do you think BBC Three contributes to these images?
ZB: BBC Three is a mixed-genre channel and we aim to provide comedy, entertainment as well as factual, news and current affairs for a young audience. There is real diversity in the stories as well as the young people represented on the channel. Sometimes it's entertaining and light-hearted, other times we're reflecting serious factual issues. BBC Three provides a good balance and contributes positively.
Speaking of balance, how do you balance achieving the ratings that you get from creating shock value entertainment with creating a realistic and accurate portrayal of a group of people – can the two go hand in hand?
ZB: Yes the two can go hand in hand when you are a mixed-genre channel – you have to entertain as well as inform. Anyway, the important thing is to recognise that BBC Three's approach to serious factual delivers great audiences anyway.
KW: I don't think you have to shock in order to entertain. The recent series about Junior Doctors told authentic stories about young people working as doctors, and scored record breaking ratings.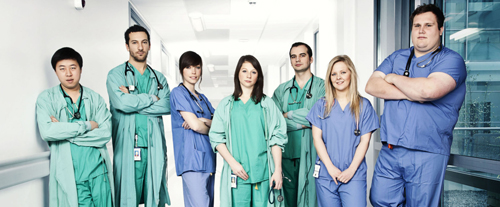 (Rights of the BBC – Junior Doctors)
What are your thoughts on the British TV industry – where does it stand in terms of being innovative and providing opportunities for newcomers?
ZB: The BBC has a number of effective initiatives and partnerships open to young people including the Extend scheme for people with disabilities to the work that Connect and Create does. Our own Fresh documentary strand is a good example of this. TV needs good ideas and good ideas can come from anybody.
KW: I think the industry can always do more to support and develop new talent on and off screen. It's probably still too difficult for those that don't have the financial support of family members to start out, particularly if not in London.
In your experience, how has technology and the online arena had an impact on the work you do and the programmes that air on BBC Three?
ZB: Massively! It's important that the BBC Three audience are able to connect with and consume BBC Three content whenever, wherever and however they want. I'm particularly interested in short-form content and of course social media.
KW: Technology has helped to make the content we make much more accessible across a number of platforms (on mobile, online etc), live longer (catch up etc) and has become more social (e.g. swapping content on social media sites). It hasn't dramatically changed the way we make that content though.
Finally, what does 'diversity' mean to you?
ZB: For me embracing diversity means embracing difference. In the narrowest sense this means getting portrayal right by ensuring that BBC Three reflects the modern UK in terms of geography, social aspirations, race, ethnicity, culture, disability but for me it also means ensuring a range of voices, opinions, approaches and styles.
KW: For me, it means a rich mix of ideas, opinions, tastes, values and beliefs from the widest range of people around the UK and the world.
—END—
A huge thanks to Zai, Karl and the BBC for taking part in the Scene Profiles series.
Click the links for the BBC Three and BBC websites.
For more information about the commissioning process at the BBC, including any related briefs and schemes, please visit www.bbc.co.uk/commissioning