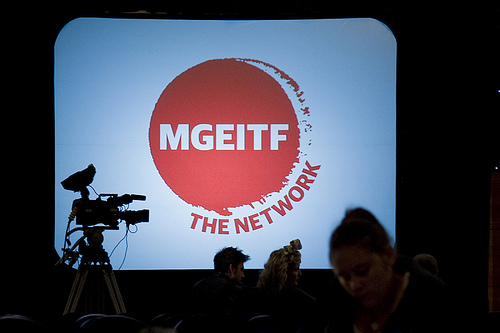 For anyone interested in working in television, The Network, a scheme by the MediaGuardian Edinburgh International Television Festival, is a must! After participating myself a few years ago, it further ignited my passion for television, helped to to score placements at MTV and allowed me to make valuable connections with senior executives at the BBC and ITV.
The Network is about making TV more accessible – getting a break isn't easy, so by providing free workshops, masterclasses, networking opportunities and career advice, The Network gives many a head start and offers an opportunity to see just how exciting working in TV really is.
The Network is an annual event held alongside the TV Festival in Edinburgh, where delegates aged 18+ are selected to attend four FREE days of masterclasses and workshops which will provide you with the skills, knowledge and contacts to start a career in telly. We work with the TV industry to increase awareness of the many jobs available in television, to give you a better sense of what role you could be suited to and howcan get that elusive job in TV.
The Network is now in its 21st year, each year The Network delegates have the opportunity to meet, work with and learn from leading creative industry figures ranging from scriptwriters to producers, presenters to publicists, programme schedulers to commissioning editors. Past contributors have included cast members from Hollyoaks and the show's Series Producer, Paul Marquess, Charlie Brooker, Al Murray, Sharon Osbourne, The Inbetweeners' James Buckley (Jay) and Co-Writer and Co- Executive Producer Iain Morris, Krishnan Guru-Murthy, Jay Hunt, Chief Creative Officer, Channel 4 and Stuart Murphy, Director of Programmes, Sky 1HD, Sky 1, 2 & 3.
At The Network you will…
Learn the key ingredients for getting a start in TV
Discover just how huge and diverse television is
Understand what all the people in a TV show's end credits do
Get your hands dirty and find out exactly how a camera works
Meet and learn from fantastically talented TV types and some celebs too
Get the opportunity to question TV execs who have the power to give you a job
All participants are then eligible to apply for The Network at Work, a placement scheme which builds on the success of The Network by placing outstanding delegates in jobs for six months with some of the UK's leading broadcasters and production companies.
For more information, click here.
Applications will open for The Network on 13th February 2012 and will close on 22nd April 2012.