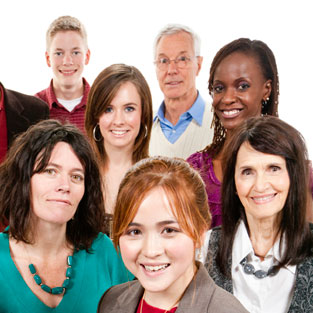 As the current chair of the Creative Diversity Network, Mark Thompson and the BBC commissioned a research report titled 'Serving All Ages' to investigate the portrayal of age in today's television industry. The full report was published today; here are some of the key findings:
More than 40% of young people were dissatisfied with the way they were portrayed on screen; younger viewers complained that they were stereotyped as being "disrespectful" and living "unproductive and vacuous lives".
More than a third of women over 55 said there were too few of them on television. The negative portrayal of older people revolved around the perceived incapacity of old people and "perceptions about a reluctance to move with the times and tendency to moan".
There was a tendency in drama, comedy and entertainment programmes to feature older people as "peripheral or token figures".
There was praise for characters such as the Dowager Countess from Downton Abbey, Patrick Trueman in EastEnders and Coronation Street's Betty Turpin for their positive portrayal of older people.
Whilst Strictly Come Dancing was commended as a programme that included contestants from a range of ages it was also felt to sometimes mock and at worst be exploitative of certain older contestants.
BBC1's Question Time and Mock the Week have been criticised in a report about television diversity for featuring "token women" on their panels. The panel shows were singled out, along with BBC2's QI, for failing to put enough female faces on screen.
Broadcasters were also criticised for dropping newsreaders and entertainment presenters, such as Strictly Come Dancing judge Arlene Phillips, who lost their jobs allegedly due to their age.
The report said viewers felt these presenters had been treated unfairly, "particularly when they had been replaced with what people felt were less qualified but younger, more attractive women".
Viewers said older women were treated differently to older men, such as Sir David Attenborough, Sir Bruce Forsyth and a "host of newsreaders" for whom their age "appeared to be seen as advantageous".
The audience would "welcome more middle- and older-aged women on television providing positive role models and greater gender equality.
Mark Thompson, BBC Director General and Chair of the CDN, said: "There are lessons here for the BBC and the rest of Britain's broadcasters. It is young people who are most concerned with the way they are portrayed and we need to look at this. But we should also note the concern, expressed by older people generally, about the need for greater visibility for older women. While of course there are many older women presenters and actors across our airwaves, this is something that needs to be addressed."
The CDN is a partnership of media companies made up of ITV, Channel 4, Sky, S4/C, Pact, MTV, Media Trust, Turner and BAFTA, which exists to improve diversity across the media industry.

Serving All Ages was carried out at the end of 2011 by NatCen Social Research. The research canvassed the opinions of the general public, the broadcast industry and people with a specific interest in the issue of age, looking at output on TV, radio and online in all UK media organisations.

To read the full report, click here.