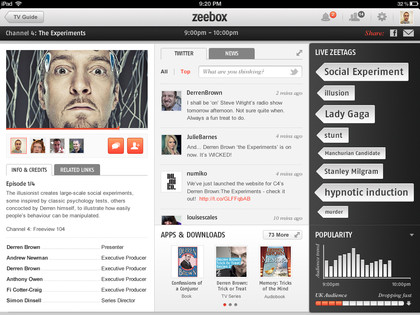 BSkyB have signed a partnership with Zeebox which will help them bring the social element of TV-viewing to their platforms. Zeebox's web, iPhone and iPad apps combine a "live" TV guide, which indicates what your online friends are watching, with collections of tweets and status updates for each show. This is building on the growing trend of 'dual screening' where viewers tend to watch TV and use their laptops (especially for social networking) at the same time.
BSkyB is taking a 10 per cent equity stake in Zeebox for an undisclosed multimillion-pound sum. The deal secures exclusive rights in the UK to integrate Zeebox's technology into its own array of 20 mobile apps, while providing the London-based start-up with capital to expand internationally. Zeebox will first appear in the Sky+ app, which already offers subscribers an interactive programming guide to schedule digital recordings. (Financial Times)
Alongside chatting with friends, Zeebox's services help users find background information and other apps about particular shows, as well as selling relevant products and services.
Zeebox's co-founder and chief executive Ernesto Schmitt said: "Sky has a strong track record of innovation, and we are delighted to partner with them to deliver Zeebox's social TV vision to millions of Sky homes…"Thanks to Sky's backing we now also have the resources and expertise to set our sights firmly on international expansion alongside further innovation here in the UK and Ireland,"
Zeebox will continue to run its standalone apps after the BSkyB deal and will be free to strike deals with other broadcasters.