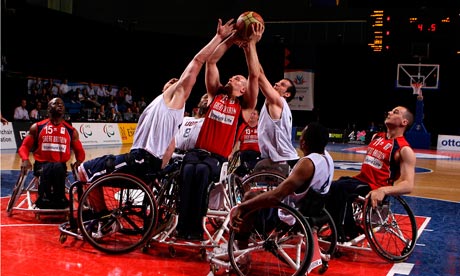 Reposted from The Guardian
Channel 4 has unveiled a "revolutionary" graphics system called Lexi and an Australian comic who vows to provocatively challenge views of disability as it attempts to bring the Paralympics to its biggest ever audience. The broadcaster, which has exclusive rights to the London Paralympics under a £9m deal signed with organisers, will broadcast more than 150 hours of coverage. Action from the Games will dominate Channel 4's schedules for 12 days from 29 August.
Alongside established names including Clare Balding, Jonathan Edwards and Ade Adepitan, the on-screen roster will be bolstered by disabled presenters discovered through a nationwide talent search. The broadcaster said half of its presenters and reporters would be disabled, including eight new faces discovered through its £500,000 talent identification scheme.
Australian comedian Adam Hills will wrap up the day's action in a late night highlights show with an "irreverent twist", while new on-screen graphics will seek to simplify the complex classification system in Paralympic sport.
Despite the boost to the Paralympics afforded by the coverage given to the exploits of Ellie Simmonds and David Weir in Beijing, the various classifications have been identified as the single biggest barrier to viewer understanding. Developed by Paralympic gold medallist Giles Long, the graphics seek to demonstrate in quick and simple form why athletes with different disabilities are grouped together in competition. Long said he had been working on the system, for which he has already developed 122 on-screen symbols using a traffic light rating to indicate the extent to which athletes are affected by their disability, since the Sydney Games in 2000.
Just as London 2012 organisers gambled that by awarding the TV rights to a separate broadcaster they would devote more attention to it, Channel 4 is banking on the Games to help redefine its brand post-Big Brother. Its chief executive, David Abrahams, said the Paralympics would be the broadcaster's biggest ever live event, supported by its biggest ever marketing budget.
To read the rest of the article, click here.
For regular news, updates and opportunities, follow us on Twitter at @Scene_TV and 'Like' the Facebook page: www.facebook.com/SceneTV