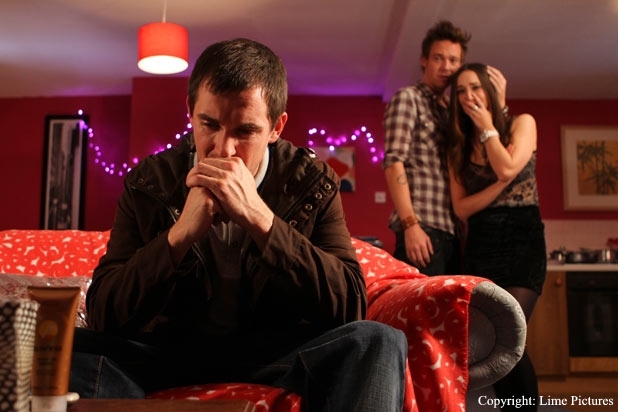 Created and produced by Lime Pictures, HOLLYOAKS is C4's flagship serial youth drama that provides viewers with entertaining and exciting storylines five nights a week. HOLLYOAKS is credited for setting trends and breaking boundaries with brave storytelling and powerful performances. HOLLYOAKS is one of the most stylish and contemporary long running dramas currently on British screens and provides the perfect hybrid of drama, comedy, suspense, warmth and humour. Renowned for its ability to tackle difficult youth issues with sensitivity and integrity, over recent years the show has touched on subjects as diverse as gender dysphoria, the issue of consent and rape, gay domestic abuse, teen homelessness, prostitution, addiction and bullying.
The HOLLYOAKS production and writing teams ensure the show has wit and an evocative style that is unique to serial drama. The show stands alone as the perfect combination of drama, up-to-the-minute fashion, innovation and laugh-out-loud humour: mixing aspiration, dilemma and tongue-in-cheek high jinx successfully so that the tone never gets too dark. Even hard hitting stories avoid being sombre.
The show is constantly evolving and is celebrated for its originality. HOLLYOAKS strives to be unique and forward-thinking and continues to be at the forefront of multi-platform engagement.
HOLLYOAKS is now looking for a number of Storyline Writers to join the existing Story Department and, as we are recruiting at different levels, professional experience isn't essential! But you do need to live, breathe and eat storytelling – your passion counts for everything!
If you believe you have what it takes then we would like you complete the following task and forward it, along with a copy of your CV, to recruitment@limepictures.com clearly marking the subject matter as Storyline Writer application. We would also appreciate completion of our Equal Opportunities form to ensure our policy is fully and fairly implemented. This sheet will be separated from your application form and will not form part of the selection process. It will be retained for monitoring purposes only.
Firstly,
Choose a Hollyoaks character that you either like or dislike the most and explain why;
then…
Choose one Hollyoaks story that you either liked or disliked the most and explain why;
and finally…
In no more than 300 words pitch a story for Hollyoaks (but only pitch a story you are willing to share!)
The deadline for receipt of completed applications is midday Tuesday, 8 May 2012 and shortlisted candidates will then be invited to attend a Workshop as the next stage of the recruitment process.
All roles are available on an initial six month fixed term contract basis and job descriptions for the different roles can be found by visiting www.limepictures.com in the Current Vacancies section.
Lime Pictures is an equal opportunities employer and welcomes applications from under-represented groups in the community
Files