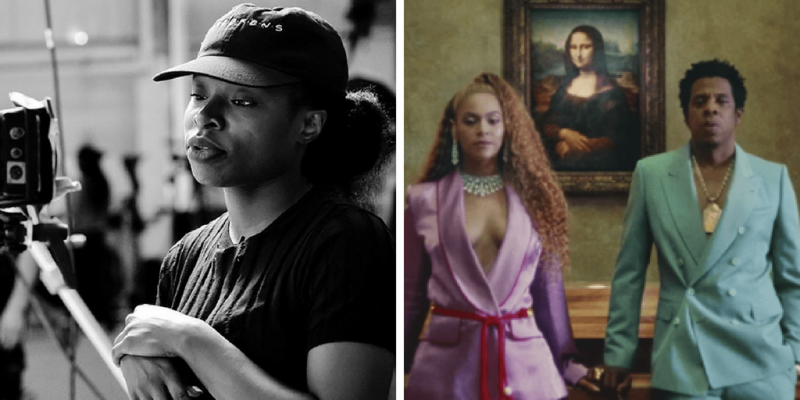 The arrival of the ship Empire Windrush 70 years ago changed the face of British culture. Black women filmmakers were part of that change. In a rare soulful day of intergenerational dialogues, on Saturday 23rd June, Black women film and TV professionals will share their wisdom and experience to succeeding generations and the audience. Presented by Gaylene Gould, BFI Head of Cinemas, guests include curator and archivist June Givanni, producer Nadine Marsh Edwards, BAFTA-nominated documentary filmmaker Dionne Walker and short filmmaker Jenn Nkiru, whose most recent project was Beyoncé and Jay-Z's latest video Apesh*t.
See below for an overview of the work from these brilliant woment and to grab your tickets.
Corinne Skinner-Carter


Actress Corinne Skinner-Carter has been a feature of black British film and television for many years. Her most well-known appearances include Empire Road in the 1970s, Burning an Illusion and Elphida in the 1980s, and Hallelujah Anyhow and Babymother in the 1990s. Skinner-Carter is also well-loved and remembered as Audrey Trueman in EastEnders. Her memoir, Why Not Me? From Trinidad to Albert Square Via Empire Road (written with Z. Nia Reynolds), was published in 2011.
June Givanni


June Givanni is a pioneering international film curator who has considerable experience in film and broadcasting for over 30 years and is regarded as a resource for African and African diaspora cinema. She has worked as a film curator with festivals on five continents and has been involved in key moments in the development of Pan African cinema.
Nadine Marsh-Edwards


Nadine Marsh-Edwards is a producer and executive director and has produced a number of award-winning short and long-form dramas, including: An Englishman in New York, The Grey Man, Two Thousand Acres of Sky, Bhaji On The Beach, Looking for Langston, Young Soul Rebels, Been so Long and Akala's The Ruins of Empire.
Dionne Walker


Dionne is a multiple award-winning filmmaker who has been involved in producing and curating documentaries and debate series for over 20 years. Her latest project, for which she is writer-producer, is the critically acclaimed feature-length documentary The Hard Stop (2015).
Jenn Nkiru


Jenn Nkiru is a British-Nigerian filmmaker, born and based in Peckham, and is one of London's most exciting rising directors. Her most recent work, a dreamlike piece titled REBIRTH IS NECESSARY, commissioned by NOWNESS, is "a personal, powerful exploration of blackness" and is a winner of the 2018 Canal+ Award.
Cecile Emeke


Cecile Emeke is a British filmmaker, writer and artist from London. She is known for the online documentary series Strolling, as well as the short film turned web series Ackee & Saltfish. Emeke's work has been featured by press worldwide.
Rashida Seriki


Rashida Seriki is a 22-year-old, London-based writer-director. Rashida's debut short film, The Fence, won multiple awards. Her second short film, Hillu, set and shot in Nigeria, is in post-production and her third, Invisible String, funded by LaCie and supported by the BFI, goes into production in June 2018.
More info and tickets here.
Follow @Scene_TV on Twitter and join the mailing list here for the latest news and opportunities.​