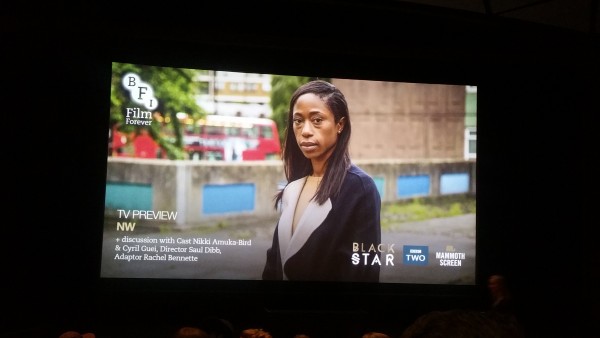 On Tuesday 25th November, BFI previewed BBC Two's upcoming 90-minute adaptation of Zadie Smith's bestselling book NW as part of their BLACK STAR season. NW tells the story of Natalie and Leah, friends who grew up together in North West London, whose lives have taken them in different directions. Set apart from the friends and family she grew up with, Natalie finds herself asking not only who she really is, but where she belongs. In an area where wealth and poverty are only streets apart, life is fragile and secrets are dangerous – as Natalie and Leah are about to find out.
Nikki Amuka-Bird plays the outwardly successful but unfulfilled Natalie, with Phoebe Fox as Leah, her more grounded friend whose life is also at a crossroads. Richie Campbell and O.T. Fagbenle also play key roles. NW is adapted by Rachel Bennette, directed by Saul Dibb and made by multi-award-winning Mammoth Screen.
Introducing the preview, Patrick Holland, Channel Editor of BBC Two, praised the film for being a rare but great example of a strong drama driven by two female protagonists. It's themes of identity and meaning are told through the prism of a female friendship.
NW will air Monday 14th November at 9pm.
Make sure you follow @Scene_TV on Twitter to keep up to date.