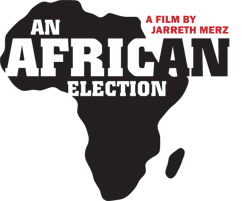 Dogwoof are proud to announce the UK premiere of Jarreth Merz's An African Election will be held at the Rich Mix cinema on the 20th November. There will be a special introduction from Bafta award-winning actress Thandie Newton and the screening will be followed with a Q&A with the films director Jarreth Merz.
In a world plagued by stolen elections, secret government agendas, and a renewed interest in the exploitation of African natural resources, what value does democracy offer, particularly in the tumultuous region of West Africa? For Ghana, a nation that has been Africa's barometer of political stability, democracy may mean the difference between peace and prosperity—and murderous chaos under military coup.
Director Jarreth Merz follows the key players of Ghana's 2008 presidential elections for almost three months to provide an unprecedented insider's view of the political, economic and social forces at work in Ghana. He builds suspense by taking the viewer down the back roads of the nation to capture each unexpected twist and turn in a contest that is always exciting and never predictable. Throughout the film, Merz depicts the pride and humanity of the larger-than-life politicians, party operatives and citizens who battle for the soul of their country.
An African Election illuminates a beacon of hope for Africa and for the value and vitality of democracy today.
'Gripping…thrilling, has impressive scope and a burning relevance' The Hollywood Reporter
Tickets are £9.00 (£6.50 students and concessions). To book, click here.
For more information about the film, visit the website: www.anafricanelection.com