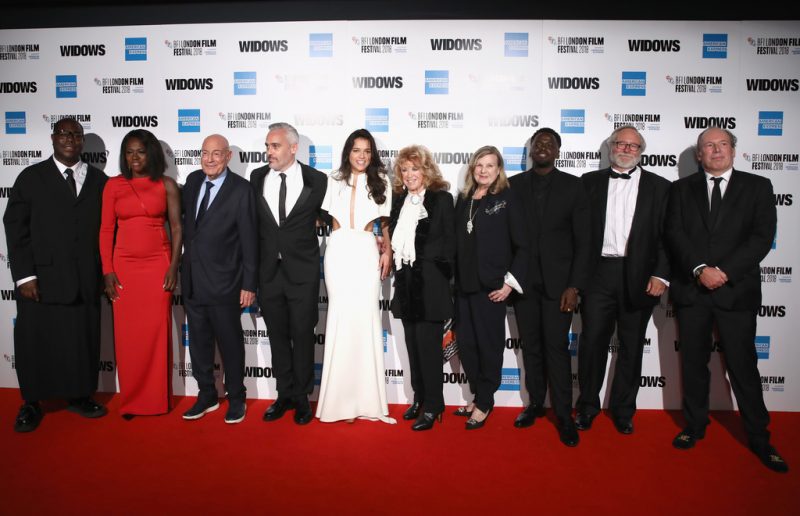 On Wednesday 10th October, the 2018 BFI London Film Festival kicked off in style with Steve McQueen's 'Widows' as the opening night gala. McQueen teamed up with Gillian Flynn (Gone Girl) to rework Lynda La Plante's groundbreaking 1980s television series. Set in Chicago, the film tells the story of Veronica (Viola Davis), whose husband (played by Liam Neeson) is killed in a heist-gone-wrong. Veronica, and the wives of the men her husband worked with, then find themselves in a dangerous situation, owing money to some very dangerous people. Michelle Rodriguez, Elizabeth Debecki and Cynthia Erivo join Davis in a bad-ass, empowering ride where they take on their men's unfinished business. Daniel Kaluuya, Colin Farrell and Brian Tyree Henry also star.
The red carpet was rolled out for the International Premiere at London's Cineworld in Leicester Square. Taking to the stage to introduce the film, McQueen spoke about why he took on the adaptation:
"Because it's a great story. And that's what I wanted to do; for me, it's all about story. I've heard a lot of people say "ooh I didn't know Steve McQueen can do this kind of film", but next time it could be a musical, it could be a comedy. It's all about the story and what the story can do. Everyone here can tell you a story but it's how you tell them that is the most important thing".
Tricia Tuttle, Artistic Driector of the Festival, stated that Widows is a film that touches on class, cultural and race divides. When asked whether there was any sense of how timely and topical it would be when making the film, Viola Davis said:
"No, I was just like Steve; I saw it as a great story and I think great stories stand the test of time. They can elevate a culture, they can inject something in a culture that people don't even know exists. I thought the heist was a great metaphor for these women taking ownership of their lives. It's like they say 'change can't happen without chaos and anxiety'. And sometimes you have to bust out and do something completely out of the norm in order to just change the pendulum".
She also had a few words to add to the all-important discussion around diversity in representation:
"Can I just say…I love the fact that I was able to wear my natural hair [crowd applause], I was able to be me – I know that seems like something very simple, but I guarantee you no film this year, last year, in the coming years will you see a 53 year old dark skin woman with her natural hair, with a Liam Neeson, and he's not beating me, he's not my pimp – he's just my husband. Drop the mic!"
The buzz for Widows began the second trailer dropped but don't worry, UK audiences won't have to wait too long before they can see it for themselves – Widows is released in UK cinemas 9th November. Check out the trailer below and to find out more about the rest of the BFI London Film Festival programme, click here.
Follow @Scene_TV on Twitter and join the mailing list here for the latest news and opportunities.​