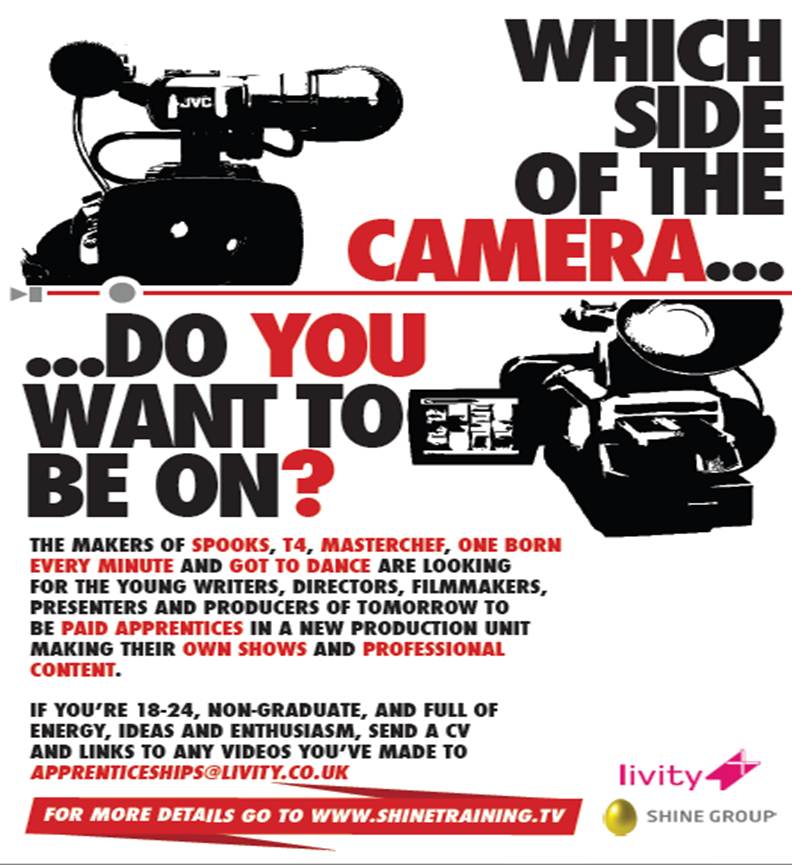 Livity, a youth engagement agency, have joined forces with Shine Group, one of the UK's leading production companies to offer paid apprenticeships to young people with a raw talent for producing and creating content.
The successful applicants will form a totally new kind of production company and will be trained and mentored by production professionals, to the standard where they will be able to make fantastic content for broadcasters, brands, online and mobile platforms.
They are looking for fresh, forward-thinking young production talent, with applications encouraged from candidates from diverse or less advantaged backgrounds. This youth-run production unit will be the springboard from which the new generation of gifted content creators can help rewrite the rulebook for the way people watch, share and interact with video content at home, on their phone or on their computer.
There are eight positions available for this paid apprenticeship, which will start in late February 2012 and last for 12 months. The shceme will be managed by an experienced TV executive, with an exciting structured mentoring programme involving industry professionals from across the Shine Group. All apprentices will receive bespoke training and an industry recognised Creative and Digital Media accreditation to A-Level standard.
Criteria:
• 18-24 years-old
• Non-graduate
• Able to work a full time, 12 month apprenticeship from late February 2012
• Positive, outgoing attitude with good communication skills
• Passion for making creative, entertaining and professional content e.g. documentaries, drama, music videos, comedy etc.
Application deadline: 13th January 2012