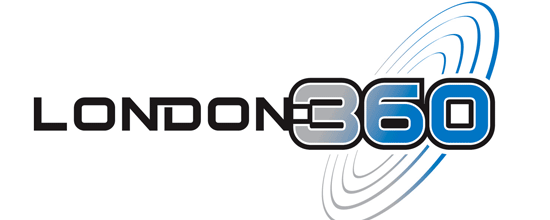 On Friday 18th November, SceneTV went to City Hall to celebrate the huge success and impact of London 360, a news programme that airs on the Communty Channel (Sky 539-Virgin Media 233-Freeview 87-BT Vision) and covers news stories from London's communities. The Community Channel is under the umbrella of the Media Trust.
The unique thing about London 360 is that although it is led by industry veteran Jasmine Dotiwala, the programme is made entirely by young people – 120 community reporters around the capital feed stories into the central hub then a selection of stories are turned into features which are then uploaded onto an array of platforms: the Community Channel, online, on radio, print and via social media. In a climate where young people are often demonised in the mainistream media, London 360 is an initiative that not only gives them a voice, it also gives talented journalists, producers and presenters the opportunity to gain hands-on, valuable experience within the media industry. London 360 has had huge success and impact on the mainstram agenda with stories picked up by the likes of the Evening Standard and BBC Radio to name a few. The initiative also has some great backing; the young people involved receive training and mentoring from senior professionals at MTV, BBC and Sky while the brand ambassadors are Alesha Dixon and Noel Clarke.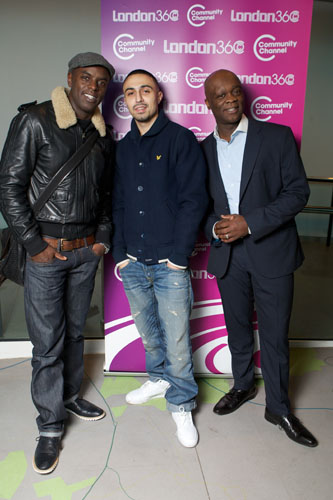 Trevor Nelson, Adam Deacon, Eddie Nestor
The event kicked off with introductions from supporter, presenter and DJ Trevor Nelson MBE and Jasmine Dotiwala who praised her team, some of whom have gone on to work at Sky, ITN, SBTV and the Jeremy Kyle Show. We then heard from some of young people involved and saw highlights from the show, such as their London Riots special and a feature on the African and Caribban Leukaemia Trust. This was followed by speeches by a store owner who fell victim to the riot devastation and ACLT co-founder Orin Lewis talking about the impact that the London 360 features had on the support they received after their stories aired.
The room was full of support, from friends and family to TeamUK talent such as rappers Sway and Bashy, actor Adam Deacon, Choice FM presenter Kojo and BBC Radio's Eddie Nestor. The mood was one of excitement and inspiration as London 360 demonstrated what talented, young people can do if just given the opportunity.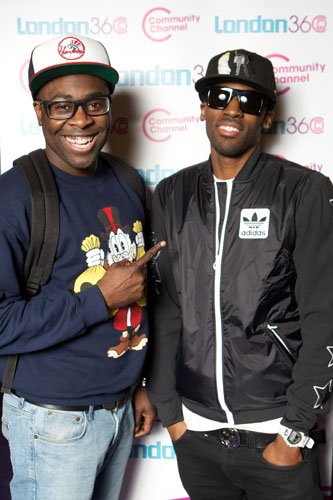 Choice FM Presenter Kojo, UK rapper Bashy
London 360 is definitely a one to keep an eye on; something tells me that this is going to go UK wide. Congrats to all involved!