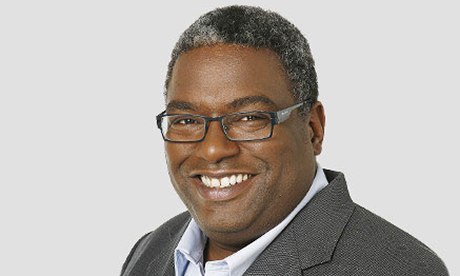 Reposted from The Guardian
The BBC's most senior black executive has said he would have had a better and more lucrative career in the US because its television industry is more favourable to ethnic minorities. Pat Younge, who will leave his post as chief creative officer of BBC Productions at the end of this year, said there was still a lack of big, meaningful roles for black actors in UK drama, despite recent high-profile hits such as Line of Duty and Luther. Younge said it was "inconceivable" that a US drama would not have a black person in a prominent role because of the proportion of black viewers among its audience. But he said there were no roles for Chinese or Asian actors in the US, who he said were "frankly knackered".
The outgoing BBC executive, who has previously said British TV is run by a "pretty white commissioning and channel elite", said it is a pattern that is reflected behind the scenes in the UK. "I have lived in both [the US and the UK]. I would rather personally live in Britain as a culture, as a society, in terms of how different races live together and rub along side by side," Younge told Nicky Campbell on Radio 5 Live breakfast on Friday. "In terms of the economics of being a black TV executive, I would have a much better career and a much more lucrative career in the States because the economics of the industry drive it that way," he said. "First of all, the US has a bigger drama industry than we do here and secondly, African Americans make up one in eight of the population, there is an economic driver for the production companies and networks to include black actors…It's inconceivable in the States that you would have a significant drama that does not have a black person in a lead or second lead role."
Younge said there was anger among black actors about the "paucity of parts" for them in homegrown TV drama. "What they mean by parts isn't work – there is probably work out there – what they mean are meaningful roles which are fully rounded and have a decent back story." Younge said: "If you look at the last couple of years, Dancing on the Edge, Small Island, Luther, The Shadow Line, Line of Duty, Top Boy, it's not that there aren't parts, the challenge is in the writing…The challenge we face in UK TV is can we get more black writers through the system who can create these rounded parts, that will give these actors the work they are looking for."
To read the full article, click here.
What do you think is holding diversity back in the UK television industry?
For regular news, updates and opportunities, follow us on Twitter at @Scene_TV and 'Like' the Facebook page: www.facebook.com/SceneTV