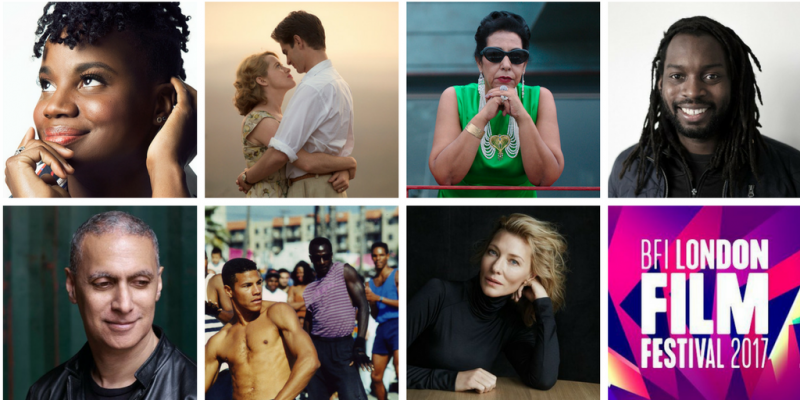 The 61st BFI London Film Festival in partnership with American Express® has announced its full programme, featuring a diverse selection of 242 feature films from both established and emerging talent. This 12 day celebration of cinema illustrates the richness of international filmmaking, with films to delight and entertain audiences, and also films that probe and interrogate issues of significance.
The Festival is the UK's leading and most prestigious film festival, representing one of the first opportunities for audiences – both the UK public and film industry professionals – to see the very best new films from across the globe, alongside an events programme with some of the world's most inspiring creative talents. The 242 feature programmes screening at the Festival include: 46 documentaries, 6 animations, 14 archive restorations and 16 artists' moving image features. The programme also includes 128 short films, and 67 countries are represented across short film and features.
Each evening of the Festival sees a Headline Gala presentation at Odeon Leicester Square. Alongside the Galas, Special Presentations and films in Competitions, the Festival will show a thrilling range of new cinema in sections Love, Debate, Laugh, Dare, Thrill, Cult, Journey, Experimenta, Family and Create – which provide pathways for audiences to navigate the programme.
Audiences have the opportunity to hear some of the world's creative leaders through the Festival's acclaimed talks' series LFF Connects and Screen Talks. Participants this year include Julian Rosefeldt & Cate Blanchett, David Fincher, Demis Hassabis, Nitin Sawhney, Johan Knattrup Jensen, Ian McEwan and Takashi Miike.
The BFI London Film Festival each year provides a vibrant forum for the exchange of ideas, with films stimulating debate and shining a light on pressing social and political issues. This year a number of 'talking points' ripple through the Festival programme, including:
LBGT – In the year of the 50th anniversary of the partial decriminalisation of homosexuality in England and Wales, the Festival presents a powerful LGBT line-up.
Immigration and Social Division – Two of the defining themes of our times are explored by filmmakers who are committed to telling powerful and complex stories about borders – both real and psychological.
Black Star – Following the BFI's landmark season celebrating the range, versatility and power of black actors in film, recent world events give new urgency to questions of opportunity, and basic human rights.
Visionaries – Cinema remains one of the most exhilaratingly kinetic and visually potent storytelling forms, and many filmmakers this year impress with the singularity and power of their vision, with keen imagination and dazzling style.
Thrill – It's a very strong year for global thrill seekers at the Festival, with a particularly strong showing from East Asia, which comes as the BFI embarks on the UK-wide season BFI Thriller, exploring how the genre reflects societal upheavals, fears and anxieties.
Strong Women – The Festival continues to shine a light on strong women behind and in front of the camera. At this year's Festival, 61 women directors are represented in the feature film selection, approximately 25% of the programme.
Deafness and disability – Both feature with marked prominence in this year's Festival programme, though the film industry still has a long way to go in terms of representation for disabled people. The Festival's industry programme will include a partnership event on equality of opportunity and expression for deaf and disabled people working in film & television.
Amanda Nevill, Chief Executive at the BFI said: "It is a delight to welcome some of the most thrilling storytellers from across the world to the Festival – we love to watch and engage with the extraordinary conversations that the Festival brings to our doorstep with every edition. London has a big heart and this year we are again reminded of the generosity and freedom of this awesome capital city of ours which so readily embraces this multiplicity of cultures and new voices. This creativity is reflected across the UK and the engine that is enabling filmmaking to thrive, supported by a favourable fiscal environment, outstanding skills and talent and ever expanding infrastructure and facilities."
Festival Director Clare Stewart said: "In these globally tumultuous times, filmmakers around the world have increasingly urgent stories to tell and more reasons than ever to reimagine our reality. This year's BFI London Film Festival programme is rich with opportunity – to stay informed, be challenged, feel the pleasure of escape and see the world differently."
GALAS
OPENING & CLOSING NIGHT GALAS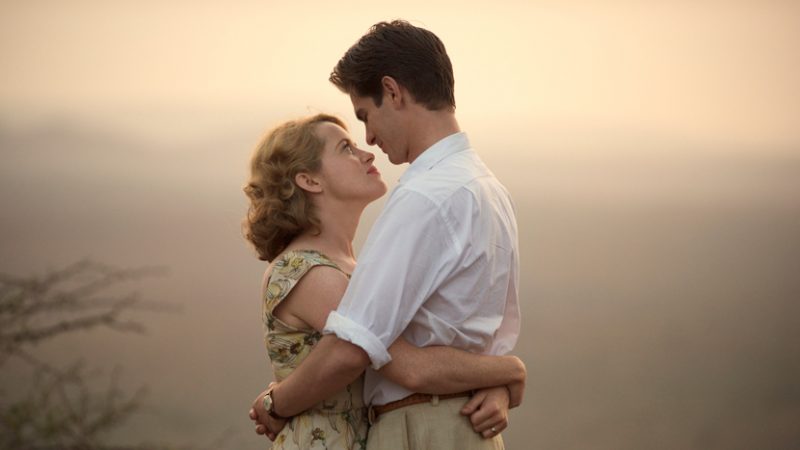 Breathe
The Festival opens with the European Premiere of Breathe, the directorial debut of Andy Serkis. Adventurous and charismatic, Robin Cavendish (Andrew Garfield) has his whole life ahead of him when he is paralysed by polio whilst in Africa and given just months to live. Against all advice, Robin's wife Diana (Claire Foy) brings him home from hospital where her devotion and witty determination inspire him to lead along and fulfilled life.
The Festival closes with Martin McDonagh's Three Billboards Outside Ebbing, Missouri, a darkly comic drama, which sees Mildred Hayes (Academy Award® winner Frances McDormand) take a stand against the town's revered chief of police, William Willoughby (Academy Award® nominee Woody Harrelson) after months have passed without a culprit in her daughter's murder case.
HEADLINE GALAS
Receiving its European Premiere as The American Express Gala, Valerie Faris and Jonathan Dayton's film Battle of the Sexes dramatises the build up to the 1973 tennis match between women's world champion Billie Jean King (Emma Stone) and ex-men's-champ and serial hustler Bobby Riggs (Steve Carell). The match became one of the most watched televised sports events of all time, reaching 90 million viewers around the world.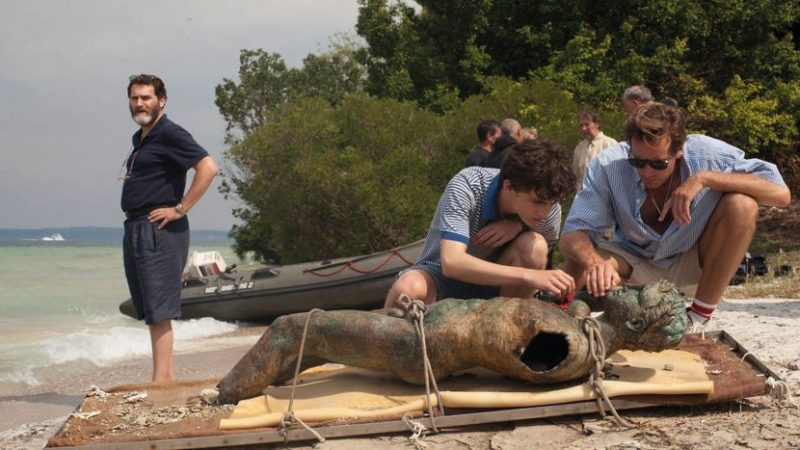 Call Me by Your Name
Luca Guadagnino (I Am Love, A Bigger Splash LFF 2015) returns to the Festival with this adaptation of André Aciman's coming-of-age novel Call Me by Your Name. The Mayor of London's Gala film is a sun-kissed, cinematic ode to the ecstasy and exquisite pain of first love, starring Timothée Chalamet as Elio, a musically gifted 17-year-old whose idyllic summer break takes a tumultuous turn when Oliver (Armie Hammer) arrives to stay at the family palazzo.
In the BFI Patrons' Gala, Downsizing from Alexander Payne (Nebraska, LFF 2014), when Norwegian scientists discover a method for shrinking people to pocket-size as part of a grand design to limit humanity's footprint, a thriving parallel 'small' society emerges. Ordinary, work-a-day Paul Safranek (Matt Damon) wants to scale-up his options by sizing-down, but things begin to go awry when his wife Audrey (Kristen Wiig) gets cold feet.
The May Fair Hotel Gala is the European Premiere of Film Stars Don't Die in Liverpool, in which Annette Bening and Jamie Bell vividly bring to the screen the intense romance between Academy Award®-winning star of The Big Heat Gloria Grahame and her much younger lover.
In director Saul Dibb's adaptation of R C Sheriff's classic play Journey's End, when C Company, led by Captain Stanhope (Sam Claflin) is about to take its posting on the front line during the First World War, with munitions and morale depleted each man's character is laid bare. The film receives its European Premiere at the LFF.
Yorgos Lanthimos follow-ups The Lobster (LFF 2015), with Headline Gala The Killing of a Sacred Deer. Colin Farrell and Nicole Kidman star in a twisted and slyly macabre morality tale which interlaces elements of Greek tragedy, surrealism and absurdist horror.
Richard Linklater returns to the Festival with the International Premiere of Last Flag Flying, a tribute and sequel to Hal Ashby's The Last Detail. the film stars Steve Carell, Bryan Cranston and Laurence Fishburne as an endearingly shambolic threesome of veterans reunited by one man's tragedy.
Mudbound is Dees Rees' triumphant return to the Festival after Pariah (LFF 2011). Receiving its European Premiere her majestic epic examines the histories of two families in the Deep South, charting how the unlikely friendship of two Second World War veterans ignites racial tension.
The American Airlines Gala The Shape of Water, is an old-school tale of the inexplicable and pure cinematic joy from Guillermo del Toro, featuring a wonderful central performance from Sally Hawkins.
Former Best Film and Sutherland Winner, Lynne Ramsay returns to the Festival with Headline Gala You Were never Really Here – a brutal portrayal of one man's battle with repression and abuse is anchored by a rage-fuelled, Cannes-winning performance from Joaquin Phoenix.
STRAND AND FESTIVAL GALAS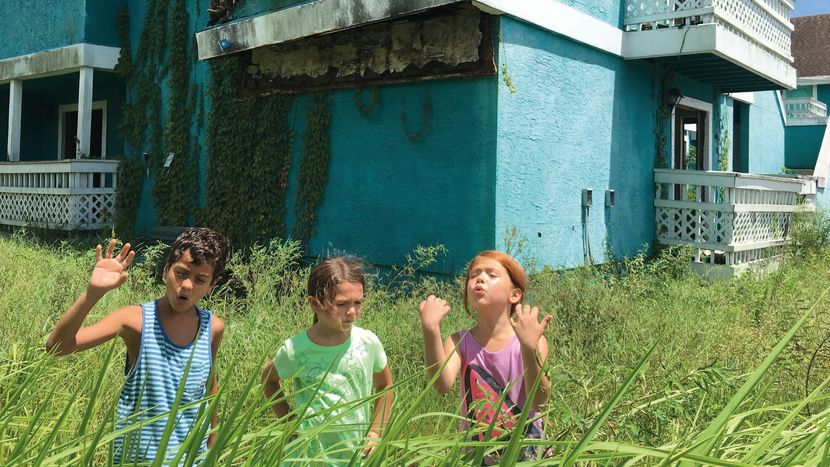 The Florida Project
The Festival Gala, in association with Time Out, features Sean Baker's magical The Florida Project, an instant classic about childhood innocence set against the backdrop of America's failed economy.
Other Strand Galas include: can be found in each of the sections below but in 2017, they are: the Dare Gala, François Ozon's Amant Double; the Family Gala, Benjamin Renner and Patrick Imbert's The Big Bad Fox and Other Tales; the Thrill Gala, Takashi Miike's Blade of the Immortal; the Debate Gala, Samuel Maoz's Foxtrot; the Laugh Gala in association with Empire, Noah Baumbach's The Meyerowitz Stories (New and Selected); the Love Gala, Dominic Cooke's On Chesil Beach; the Create Gala, Michel Hazanavicius' Redoubtable; the Archive Gala, Shiraz: A Romance of India; the Cult Gala, Joachim Trier's Thelma and the Journey Gala, Todd Haynes' Wonderstruck.
SPECIAL PRESENTATIONS
A Fantastic Woman
Eight Special Presentations shine the spotlight on new work from major directors including:
The European Premiere of Dark River from Clio Barnard
Happy End, Michael Haneke
The Party, Sally Potter
Zama, Lucretia Martel
A Fantastic Woman, Sebastián Lelio'
The European Premiere of The Final Year, Greg Barker
Looking for Oum Kulthum, Shirin Neshat
The European Premiere of the first two episodes of Mindhunter, David Fincher
Key filmmaking talent due to attend the Festival's gala and special presentation screenings include:
Andy Serkis, Andrew Garfield, Claire Foy, Martin McDonagh, Frances McDormand, Sam Rockwell, Valerie Faris, Jonathan Dayton, Emma Stone, Andrea Riseborough, Elisabeth Shue, Luca Guadagnino, Timothée Chalamet, Paul McGuigan, Annette Bening, Jamie Bell, Julie Walters, Saul Dibb, Sam Claflin, Asa Butterfield, Toby Jones, Stephen Graham, Yorgos Lanthimos, Colin Farrell, Nicole Kidman, Barry Keoghan, Richard Linklater, Bryan Cranston, Dee Rees, Carey Mulligan, Jason Mitchell, Mary J. Blige, Garrett Hedlund, Guillermo del Toro, Lynne Ramsay, Joaquin Phoenix, François Ozon, Patrick Imbert, Takashi Miike, Sean Baker, Brooklynn Kimberly Prince, Valeria Cotto, Bria Vinaite, Samuel Maoz, Noah Baumbach, Emma Thompson, Saoirse Ronan, Billy Howle, Michel Hazanavicius, Louis Garrel, Stacy Martin, Bérénice Bejo, Joachim Trier, Todd Haynes, Oakes Fegley, Jaden Michael, Clio Barnard, Daniela Vega, Greg Barker, Shirin Neshat, David Fincher, Jonathan Groff, Holt McCallanay, Sally Potter, Bruno Ganz, Emily Mortimer, Cillian Murphy, Kristin Scott Thomas, Timothy Spall, Lucrecia Martel.
AWARDS AND COMPETITIONS
The BFI London Film Festival Awards celebrate the highest creative achievements of British and international filmmakers showcased in our Competitive sections, applauding extraordinary storytelling and inventive filmmaking across all the categories. The winners in each competition are selected by festival juries and announced at the LFF Awards, a high profile awards dinner held at Banqueting House on Saturday 14 October. Paul Greengrass will be presented with the BFI Fellowship award at this year's Awards ceremony.
OFFICIAL COMPETITION
The Official Competition, recognising inspiring, inventive and distinctive filmmaking, includes the following shortlisted titles:
Robin Campillo, 120 BPM
Vivian Qu, Angels Wear White
Majid Majidi, Beyond the Clouds (World Premiere)
Nora Twomey, The Breadwinner (European Premiere)
Juliana Rojas, Marco Dutra, Good Manners
Xavier Beauvois, The Guardians (European Premiere)
Andrew Haigh, Lean on Pete
Andrey Zvyagintsev, Loveless
Azazel Jacobs, The Lovers (European Premiere)
Warwick Thornton, Sweet Country
Cory Finley, Thoroughbred (International Premiere)
Annemarie Jacir, Wajib
FIRST FEATURE COMPETITION
Titles in consideration for the Sutherland Award in the First Feature Competition recognising an original and imaginative directorial debut are:
Daniel Kokotajlo, Apostasy
Léa Mysius, Ava
Michael Pearce, Beast (European Premiere)
Ofir Raul Graizer, The Cakemaker
Gilles Coulier, Cargo
Kogonada, Columbus
Rungano Nyoni, I Am Not a Witch
Léonor Serraille, Jeune Femme
Ana Asensio, Most Beautiful Island
Carla Simón, Summer 1993
Hlynur Pálmason, Winter Brothers
John Trengove, The Wound
DOCUMENTARY COMPETITION
The Grierson Award in the Documentary Competition category recognises cinematic documentaries with integrity, originality, and social or cultural significance. This year the Festival is screening:
Maryam Goormaghtigh, BEFORE SUMMER ENDS
Elvira Lind, BOBBI JENE
Arash Kamali Sarvestani, Behrouz Boochani, CHAUKA, PLEASE TELL US THE TIME (International Premiere)
Radu Jude, THE DEAD NATION
Shevaun Mizrahi, DISTANT CONSTELLATION
Frederick Wiseman, EX LIBRIS – THE NEW YORK PUBLIC LIBRARY
Agnès Varda, JR, FACES PLACES
Austin Lynch, Matthew Booth, GRAY HOUSE
Brett Morgen, JANE (European Premiere)
Lucy Cohen, KINGDOM OF US (World Premiere)
Emmanuel Gras, MAKALA
Sonia Kronlund, THE PRINCE OF NOTHINGWOOD
SHORT FILM AWARD
The Short Film Award recognises short form works with a unique cinematic voice and a confident handling of chosen theme and content. This year the Festival is screening:
Gabriel Abrantes, The Atificial Humors
Phil Collins, Delete Beach
Billie Pleffer, Fysh (International Premiere)
Anna Cazenave Cambet, Gabber Lover
Karishma Dube, Goddess
Aegina Brahim, Laws of the Game
Jonathan Vinel, Martin Cries
Patrick Bresnan, The Rabbit Hunt
Moin Hussain, Real Gods Require Blood
Kibwe Tavares, Robot & Scarecrow
Kazik Radwanski, Scaffold
Harry Lighton, Wren Boys (World Premiere)
Additional filmmaking talent attending for feature films in competition include: Robin Campillo, Vivian Qu, Majid Majidi, Nora Twomey, Juliana Rojas, Marco Dutra, Xavier Beauvois, Laura Smet, Andrew Haigh, Charlie Plummer, Andrey Zvyagintsev, Azazel Jacobs, Warwick Thornton, Cory Finley, Annemarie Jacir, Daniel Kokotajlo, Michael Pearce, Ofir Raul Graizer, Gilles Coulier, Rungano Nyoni, Léonor Sérraille, Laetitia Dosch, Ana Asensio, Carla Simón, Hlynur Pálmason, John Trengove, Maryam Goormaghtigh, Elvira Lind, Arash Kamali Sarvestani, Radu Jude, Shevaun Mizrahi, Frederick Wiseman, Austin Lynch, Matthew Booth, Brett Morgen, Emmanuel Gras, Sonia Kronlund.
STRANDS
The Festival programme is organised in sections to encourage discovery and to open up the Festival to new audiences. The strands are: Love, Debate, Laugh, Dare, Thrill, Cult, Journey, Create, Family, Treasures and Experimenta. Find out more here.
LFF CONNECTS & SCREEN TALKS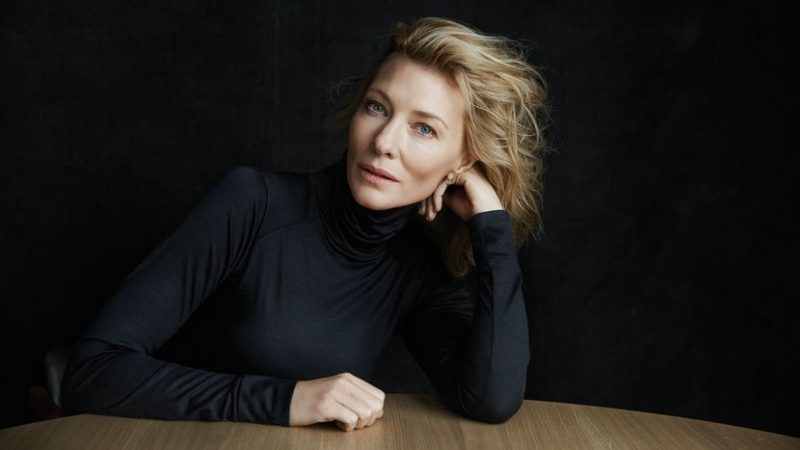 Cate Blanchett
The acclaimed LFF Connects series returns with a programme of agenda-setting talks from the world's leading artists and thinkers who are working at the intersection of film and other creative industries, while the Festival's acclaimed Screen Talks series will welcome some of the most exciting international actors and directors in contemporary cinema to discuss their body of work. Talks include:
Julian Rosefeldt & Cate Blanchett
Nitin Sawhney
Ian McEwan
Johan Knattrup Jensen
David Fincher
Demis Hassabis
Takashi Miike
To find out more about the programme, visit www.whatson.bfi.org.uk/lff.
For the latest TV news and opportunities, follow @Scene_TV on Twitter and join the mailing list here.