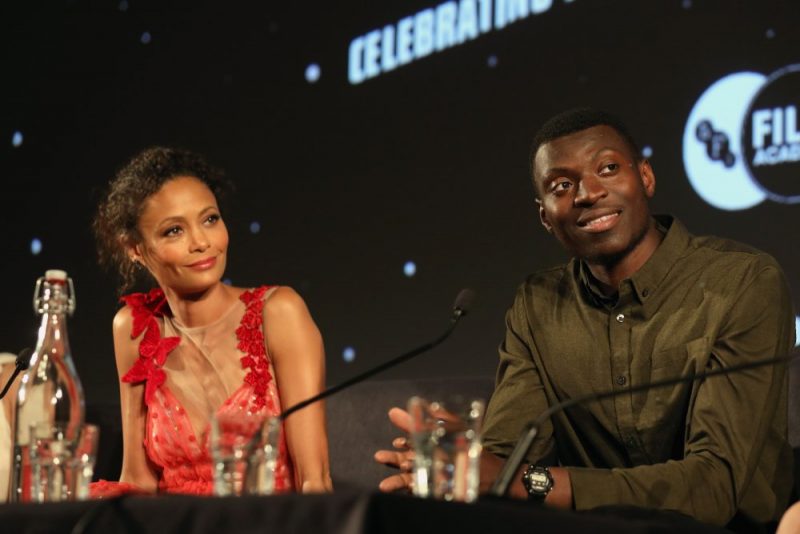 Thandie Newton and BFI Film Academy graduate Nathan Lloyd.
Aspiring young filmmakers now have the opportunity to kick-start their career in the film industry by applying for one of 900 places currently available on 47 BFI Film Academy courses located across the UK. Places are open to talented 16-19 year olds, resident in the UK, who have a passion for filmmaking and an ambition to work in the film industry. Courses are now accepting applications online for the upcoming academic year, September 2018 to March 2019.
Taking place from Bournemouth to Belfast, Shropshire to Swansea, the BFI Film Academy is a gold standard talent development programme for 16-19 year olds, designed to uncover the UK's filmmaking stars of the future. Previous graduates have gone on to work on a wide range of films, from independent productions such as Clio Barnard's Dark River, the upcoming Blinded by the Light from Gurinder Chadha, through to blockbusters including Kenneth Branagh's Artemis Fowl, Patty Jenkins' Wonder Woman 2 and J. J. Abrams' Star Wars Episode IX.
BFI Film Academy has been hugely successful, creating over 5,000 places for young people on courses across the UK since 2012. The courses provide hands-on filmmaking experience and invaluable training and insights from industry professionals. The Academy offers training for an array of film industry roles, from writing and directing to production, sound design, editing and camera, and provides learning around film history and cinematic storytelling to inspire an all-round appreciation of film culture.
Graduates go on to join the BFI Film Academy alumni network with access to opportunities such as BAFTA mentorships and the BFI Film Academy Future Skills programme. In partnership with Lucasfilm, the Future Skills programme has helped launch the careers of young people from under-represented groups, with 28 trainees placed in production roles within Sound and Lighting to Art Department and Camera on Solo: A Star Wars Story. The programme is continuing this year with a further 30 graduates from the BFI Film Academy working as paid trainees, in a variety of craft and technical roles, on the next Star Wars film, Episode IX, currently in production at Pinewood Studios.
Thandie Newton, who starred in Solo: A Star Wars Story said: "It's imperative that people from all backgrounds see themselves in film and one of the beautiful things about BFI Film Academy is that it gives opportunities to young people from all walks of life – the programme enables young people to enter this industry from a position of passion rather than privilege. The more people behind the scenes who bring perspectives from everywhere, the more we'll be able to truly reflect the world through our work."
Jen Sobol, BFI Film Academy Project Director said: "In just seven years the BFI Film Academy has established itself as a gold standard training and development programme and an important new talent pipeline into the UK film industry. This is the most exciting part of the process, when we throw the doors open and invite talented young people across the whole country to be part of the programme. I can't wait to see who will be joining us this year."
Nathan Lloyd, BFI Film Academy graduate said: "For anyone interested in what goes into Film & TV productions I'd advise you to enrol in the BFI Film Academy regional and Craft Skills residential course delivered by the NFTS. It'll demystify what goes on behind-the-scenes and equip you with all the foundation level skills and understanding needed for working in the industry. Through completing the BFI Film Academy course and Future Skills programme I am now a working member of the UK Film Industry."
The BFI Film Academy is all about creating opportunities for everyone everywhere to be part of UK film, regardless of their background. The course costs £25 but if applicants are unable to pay the full course fee there are opportunities for these to be waived. Bursaries are also available for travel and childcare.
For more info and to apply, visit: bfi.org.uk/Filmacademy
Follow @Scene_TV on Twitter and join the mailing list here for the latest news and opportunities.​