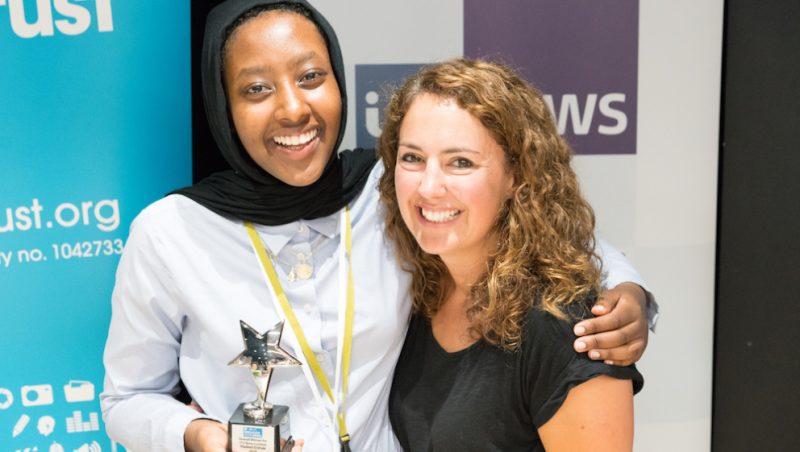 Breaking into News, the nationwide initiative run by Media Trust and ITV News to discover ITV broadcast journalists and promote diversity in broadcast journalism, is back for its eighth year. The initiative will be fronted by ITV's award-winning news broadcaster Charlene White along with Ria Chatterjee for ITV London.
The competition is open to everyone of all ages and backgrounds across the UK and offers those with little or no media experience the opportunity to break into broadcast journalism, reporting on a subject important to them. Ten applicants will be shortlisted, representing one for each of the ten ITV regions across England, Wales and Northern Ireland. Those who are shortlisted will then be paired with an ITV journalist based in their region, and over the course of 6 weeks will be mentored on all aspects of broadcast journalism, including writing, reporting, production and how a newsroom works.
The overall winner will be selected by a panel of influential judges including Roohi Hasan (ITV News, Senior News Producer), Kate Watkins Tutor (Head of TV News Training, School of Media and Communication, Leeds University), Margaret Emsley (Head of News at ITV Calendar) and Jasmine Dotiwala (Head of Youth Engagement at Media Trust) and will be awarded with £400 worth of journalistic equipment and the chance to have their local news report aired on ITV..
Last year's winner Hadeel Elshak explored the effect the Grenfell fire had on the engagement of young people in politics. You can watch it here.
ITV Ambassador Ria Chatterjee says "Breaking into News is your opportunity to dive into a world of storytelling; to be part of a team of reporters, producers, camera operators and editors who work tirelessly to tell the stories that matter."
Charlene White says "I'm proud to be a part of the Breaking into News competition. A newsroom is only strong if it reflects the audience it broadcasts to. Everybody has the right to tell stories they're passionate about – irrespective of who they are or where they come from. And BiN helps to facilitate that."
Su-Mei Thompson, CEO at Media Trust added: "At Media Trust, we're really concerned about the erosion in local reporting and the impact of this on the voice of local communities, the accountability of local institutions and ultimately, Britain's ability to function as a proper democracy. That's why Breaking into News is so important to us, with its emphasis on local news in ten different regions across the country and the nurturing of diverse local reporting talent. We've also been so heartened by the success of our previous participants, many of whom are now working in newsrooms across the UK and contributing their insights and perspectives to what will hopefully lead to a more participatory and representative approach to news reporting in this country."
The competition is now open – head over to www.breakingintonews.co.uk for more info and to apply. The closing date is Friday 5th April – good luck!
Follow @Scene_TV on Twitter, @SceneTV_ on Instagram and join the mailing list here for the latest news and opportunities.