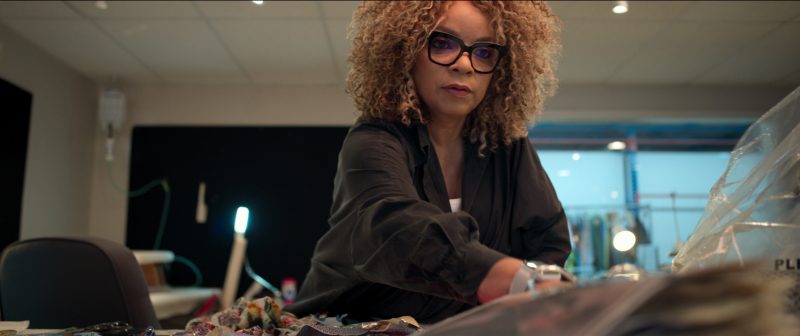 Click here to join our mailing list for more news like this.
There are not many people who can boast of a 35 year career in television and film, contributing to some of the most iconic visuals we've seen on screen, and picking up a historic Academy Award along the way. The list of work from the legendary costume designer Ruth E. Carter is extremely long and varied; from Spike Lee's Do The Right Thing and black classics Baby Boy and Love & Basketball, to critically acclaimed biopics Malcolm X and Selma. It was her vision, skill and creativity on Marvel's Black Panther that won her the Academy Award for Best Costume design, the first time an African American had won in that category. Also, if you're like me and Being Mary Jane is one of your favourite television shows ever, you'll know that MJ wouldn't have been MJ without the flair in everything she wore. The truth is, when you think of some of your favourite characters in film and television, aside from what they said and did, what they wore and how authentically it matched their personality and the world around them is what elevated their story; it's what made them feel more real and brought what was on screen even closer to you. This is what Ruth E. Carter does so brilliantly, and I had the honour of sitting down with her to talk about her latest project – Netflix Original Film Dolemite is My Name, starring another legend in the game, Eddie Murphy.
The film tells the story of Rudy Ray Moore, a comedy and rap pioneer who proved naysayers wrong when his hilarious, obscene, kung-fu fight- ing alter ego, Dolemite, became a 1970s Blaxploitation phenomenon. From director Craig Brewer (Hustle & Flow, Empire); Emmy and Golden Globe-winning writers Scott Alexander and Larry Karaszewski (Ed Wood, The People vs. O.J. Simpson); Eddie Murphy takes the lead role in a film that transports you back to the 70s in style, with Carter firmly at the steering wheel.
We have a lot of creatives who come to our platform. What would you say to someone who doesn't have a great understanding of costume design but wants to embark on that path. What would be the one piece of advice you'd give them about taking that first step?
Well, costume designers help support the story. And I think it's a big part of the collaboration between the director and cinematographer and the production designer – you have to have a costume designer. We're artists, we're storytellers. We're not just people who go to the store to buy clothes and put nice clothes on people. There is certainly some of that going on but if you really think about some of your favourite movies, they are in costumes that definitely support the story. It is an art form, so I would say to those who are thinking about doing it, that you should get into this field with integrity. That you should go into it trying to learn as much as you can. That it's not styling, it's not red carpet, it's not pleasing actors; it is actually your voice and your artistry and you should go about it as an art form.
How did you come to be involved in Dolemite is My Name, and what made you say yes?
This was my sixth film with Eddie Murphy; I know his whole team, we're like a film family. So his assistant Charisse (M. Stewart) contacted me and asked me if I would do it. And of course I knew about Rudy Ray Moore and just hearing that this was something Eddie wanted to do for a very long time, just made me kind of say 'yeah of course', I'd love to help him realise this dream.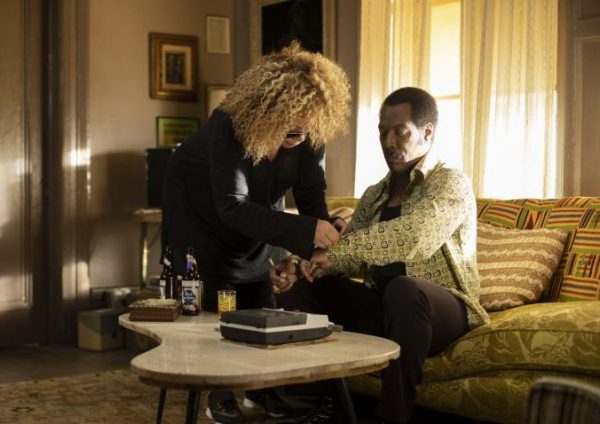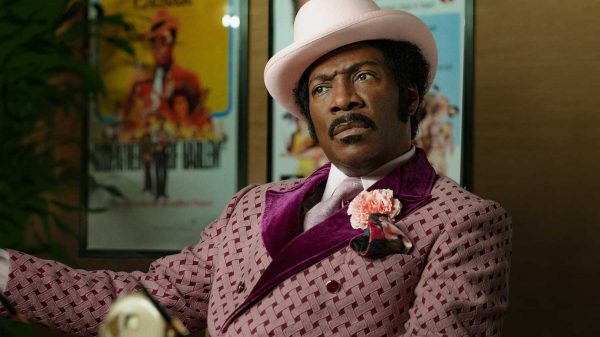 It sounds like this was a big passion project for Eddie as it's been labelled as the most personal project of his career, one that he fought for more than 15 years to get made. With Eddie also being an executive producer, I'm sure he was quite involved. What was it like collaborating with him, especially developing both Dolemite's and Rudy's character through their wardrobe?
Eddie trusts that you're going to do your part. I brought a lot of research and illustrations to his house, he looked over all of the drawings and he recognised things right away. He knew which movie the references came from. There were some costumes we didn't use because he felt that were too far into Rudy's filmography so would be confusing for the film we were making. And I hadn't even thought about that; I was just going through Rudy's filmography and loving all of these ideas that he had and Eddie kind of brought me back. So he was very involved.
I can understand the complexity of trying to represent the 70s, but also do it in a way that wasn't over the top of stereotypical in what we know the 70s to be. Was that a real challenge?
Of course. There are so many 70s themed parties out there and everybody wants to find the biggest afro, the biggest pair of platform shoes. I was a young girl in the 70s and I remember a lot of things about it. I remember people feeling really good about what they had on. I remember all kinds of trends, not only platform shoes but I remember Earth Shoes and palazzo pants, maxi-coats, midi-coats, mini dresses and mini skirts. So I knew that there was a realistic version of the 70s and that was the story I wanted to tell. I also needed Rudy Ray Moore to stand out when he played Dolemite; I needed that character to have that quintessential larger-than-life-70s look. I knew pimp-style from Eleganza magazines, Flag Bros magazines – I knew that style was something people wore and they were serious about it, so I wanted Dolemite to have that same swagger.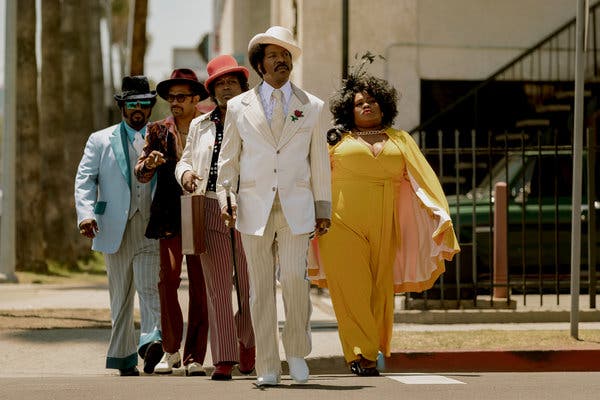 You said it's your sixth time working with Eddie, and I know you have a history with Spike Lee also. How important are those relationships to you, as a costume designer?
It does have a little to do with loyalty, but it also has a lot to do with 'I think this person will understand where I'm coming from and I can talk to them about this story and they will understand'. That's the reason why I think I'm asked back with certain directors.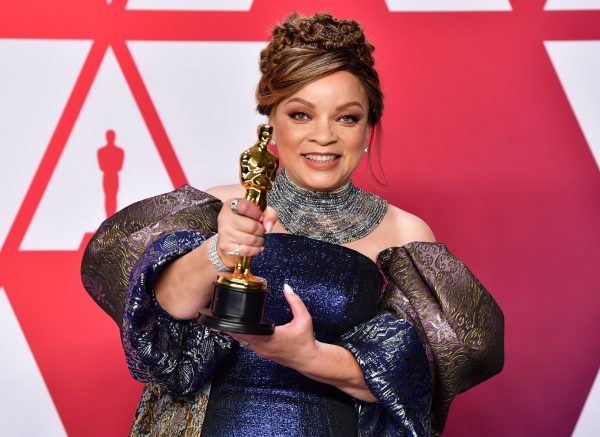 We can't talk to you without talking about Black Panther and winning the Academy Award for Best Costume Design. What did that mean for you and what do you hope it meant for other creatives?
Well, I have been doing this for 35 years. When I came on the scene with Spike Lee, he was very much about proper representation, inclusion and bringing people of colour into this industry that would not otherwise get the opportunity. So by the time 35 years passed and I was on the Dolby stage receiving the Oscar for Black Panther, I felt like it said that I am someone like you; that with hard work and perseverance this representation is for you and it again opens the door.
It's a poignant message and one that is even present in the film. The industry and critics don't understand Rudy Ray Moore and Dolemite as a character, but the people do, because it's representative of their existence and their world. There's currently talk of a renaissance when it comes to black creatives and their stories being told. However, looking at the film, the fight for representation has been happening for decades. Considering your history in the game, do you actually feel like a shift is happening?
I feel like there is a shift. I feel like there were key people who were responsible for beginning the shift. Spike Lee would be one of them. I also think that within music, rap came in and gave people a voice. All of these parts of our culture started to become a part of the mainstream, everyone started doing their thing and it all culminated. We influenced the Ryan Cooglers who took the next step got those opportunities like Black Panther.
It like a continuous journey, one person's fight and success feeds into the next.
Exactly.
As a storyteller, are there any other stories you're dying to tell through the work you do?
Well I got the opportunity to do Coming 2 America; we just finished that so that was a 'crossing off the bucket list' moment.
What was that like?
Oh it was amazing, everybody is back – James Earl Jones, Eddie, Arsenio (Hall), Shari (Headley), then we added Wesley to it so he plays a crazy character. I think it's going to be a fun ride; those who didn't grow up with the first one will get a new experience and those who did will be excited to see Zamunda more than Queens. But I think my bucket list project would be…you know I love musicals and I don't really get to do them. I did a musical with School Daze and then I did a Teen Beach movie for Disney, but I haven't done anything like Moulin Rouge and I would love to do something like that.
Fingers crossed, I'll be keeping my eye out for that. Please make it happen!
I'm putting it out there!
– – – – –
Dolemite Is My Name is available to stream now on Netflix.
Follow @Scene_TV on Twitter, @SceneTV_ on Instagram and join the mailing list here for the latest news and opportunities.