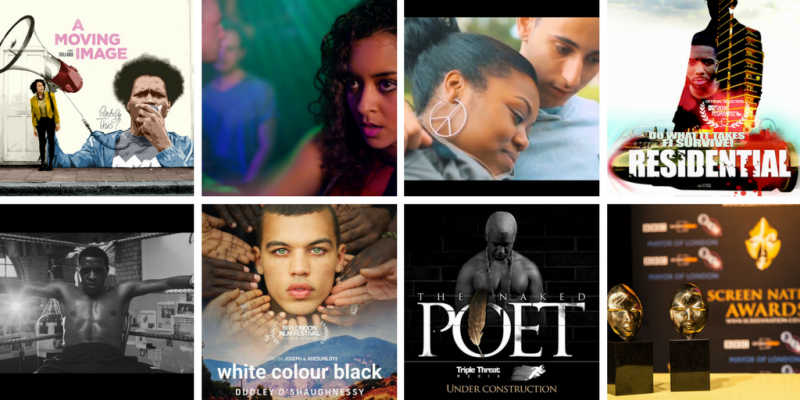 The Screen Nation Awards are back for another year to celebrate the cream of the crop of black British and global talent. We'll be profiling the nominees – next up, we have the fantastic motion pictures up for the Independent Spirit Film Production award.
A Moving Image – Shola Amoo
An artist returns to her gentrified community where she explores her social position and complicity in the rapid changes.
Shola Amoo's debut feature is a multimedia film called A Moving Image. It had its World Premiere at The LA Film Festival 2016 in competition for the World Fiction prize and received The Special Recognition Award at The Blackstar Film Festival in Philadelphia. It had its European Premiere at The BFI London Film Festival 2016 and was released theatrically in the UK from the 28th April 2017 through Verve Pictures.
Brash Young Turks – Naeem and Ash Mahmood
Brash Young Turks is a 2016 coming-of-age British crime film, directed by Naeem Mahmood and co-directed by his brother Ash Mahmood, that tells a fast paced struggle of love, crime and power, against all odds. The film stars Melissa Latouche, Paul Chiedozie, Tom Bott, Richard Shelton and Julian Glover among a large ensemble cast.
Brash Young Turks premièred at The British Urban Film Festival in September 2015 and was the fastest selling film in the festivals 10 years of existence.
Lapse of Honour – Rayna Campbell
A drama set in and around Moss Side, Manchester. It's a battle of the fittest as two teens, Eve and Tom, struggle to overcome obstacles that are thrown their way. Directed by Rayna Campbell and starring Lady Leshurr, Tom Collins, Louis Emerick and Gary McDonald.
Residential – Demus Pascal
Demus Pascall's debut feature Residential stars Aubrey Whyte, Juanita Ingram, Jevon Brown, Bola Oke, Louis Jordan and Lawrence Brown premiered at the British Urban Film Festival in September 2016.
With a list of producers including former Radio 1 DJ Chris Goldfinger, Residential follows the journey into the deep and cold blooded mind of Bolo (Aubrey Whyte), a paranoid sociopath with a vision to set up life back home in Jamaica with his family. Bolo's days on the streets of South London as a prolific 'Don' have expired and he realises it's time to step down; but not before agreeing to do 'one more' drug transaction with Kingston Jamaica's most wanted person of interest, 'Fats'.
Six Rounds – Marcus Flemmings
Amongst the 2011 London riots, a former boxer, Stally, must choose between his lower class past plagued by crime or a new future in a middle class society that he doesn't fit into. Will he choose to go back into his life of crime and save the life of his best friend? Or will he choose to step forwards to be with the love of his life, Mermaid and a more comfortable and alien life?
The Naked Poet – Jason Barrett
Poet Lazarus finds himself caught in a love triangle with long term lover Louise and new found love interest Simone. A heartfelt romantic comedy with a twist, set to a beautiful London backdrop.
White Colour Black – Joseph Adesunloye
Leke is a young successful photographer who lives a very hedonistic lifestyle in London. He's been estranged from his father for many years and hasn't returned to Senegal since his childhood. When his father becomes ill and suddenly dies, Leke makes the journey back to bury his father and to rediscover a culture he has long forgotten.
—
Taking place on Sunday 7th May and set to be streamed on Facebook Live, the 12th annual Screen Nation Awards ceremony will be held in the impressive Ballroom of the newly multi-million pound refurbished Park Plaza Riverbank, overlooking the Thames at the Albert Embankment. To see the full list of nominees, click here, and to buy tickets to attend the event, follow this link.