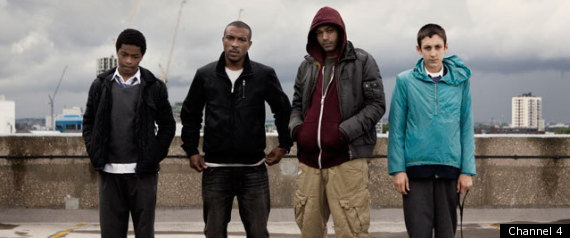 Yesterday (31st October) saw the debut episode of four-part drama Top Boy on Channel 4. Leading up to the broadcast there had been much hype about the series, which takes a look at "young lives lived on the edge in east London – an honest and gripping rendition of inner-city drug and gang culture" (Channel 4 website).
There appears to be a split in regards to the support the drama has received- while one side of the argument is that it is showcasing the reality of some young people in the UK, others argue that the 'gang-culture' storyline offers nothing new to what we have seen before or does any good to deal with the problem. The TV Collective featured an interview with writer Ronan Bennet and director Yann Demange. In response to whether they have a mission, they said:
I flinch at words like 'mission'. This is drama. What I try to do is take you into people's worlds. I wanted to show that there is a deeper story. I'm not flying the flag for the Dushanes of this world by any means, but I also know that you can't lump them all together. Going into estates I saw that they felt locked out, they knew there was another world out there, that people have better opportunities, but they feel locked out of it. That's what we show, the struggles that they and their families have, getting by on very limited resources.
The TV Collective also spoke to actor Ashley Walters, who argues against the view that the drama is another negative depiction of stereotypical young black men:
I completely disagree; it is a slice of life. We are constantly trying to hide from these issues that we have. The problem is not solely based in the community that it is happening in, we all need to help to make these things change. Until then, they aren't going to. On the other hand, this is fiction, a drama, it's authentic and real but it's also to entertain people. I guarantee there will be some people that say it's not real and not normal. They will say it has been hyped up to add more suspense and it wouldn't happen in real life. There are lots of people around the country who don't get to witness these type of things and can't understand why this is actually quite normal to people, and I think Top Boy will explain it.
Here are some of the reviews the morning after:
The Guardian's piece highlights the mixed reviews from a panel of Hackney locals who, despite broad approval, questioned the realism of the programme and use of stereotypes.
Another article in The Guardian encouraged people to watch stating that "well-acted, well-written television like this don't come round that often".
The Daily Mail criticises the drama for being "unimaginative" and guilty of perpetuating negative stereotypes of the black community when there are many other positive stories that could be told.
The Telegraph gives Top Boy 4 stars out of 5 saying that while authenticity is questionned in some places, overall it was a good opener with similarities to 'The Wire'.
Speaking of 'The Wire', the Huffington Post shoots down any comparisons stating that it only provides "a prism through which to judge the achievements of this ambitious piece". It is positive overall, with praises going to the cinematography and "excellent acting".
Scotsman says praises the drama for being "beautifully shot" and its "excellent performances".
These are just a few of the reviews but they do well to reflect the mixed bag of comments that are present in the media and also on the Top Boy hashtag #TopBoy. I said I would reserve my comments until it aired so will wait until the end before I add my two cents!
Top Boy airs on Channel 4 at 10pm until Thursday 3rd November.
What are your thoughts? Comment below or tweet them to @Scene_TV