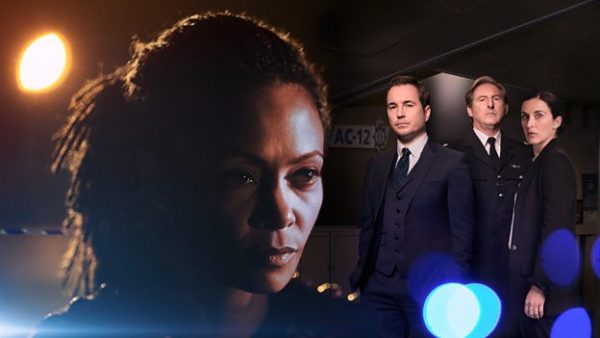 Check out the trailer for the 4th series of BBC's Line of Duty. This time around, Thandie Newton takes the reigns as DCI Roz Huntley. When she captures a serial killer, Forensic Coordinator Tim Ifield (Jason Watkins) alerts AC-12 to a possible miscarriage of justice.
Written and created by Jed Mercurio, the series begins with DCI Roz Huntley and her team in the thick of a career-defining case, Operation Trapdoor. Under intense pressure to catch the culprit and prove herself to her superiors, and facing conflict with her colleague, Forensic Coordinator Tim Ifield, it's not long before AC-12 decide to probe her handling of the investigation. A mother of two and wife to husband Nick (Lee Ingleby), Roz will do anything to stop her life unravelling. Anything.
Determined to uncover the truth, Detective Sergeant Steve Arnott (Martin Compston), Detective Sergeant Kate Fleming (Vicky McClure) and Superintendent Ted Hastings (Adrian Dunbar) must work together to tackle their most devious opponent yet. They are aided by PC Maneet Bindra (Maya Sondhi) and newcomer Detective Constable Jamie Desford (Royce Pierreson).
Creator, writer and Executive Producer Jed Mercurio says: "Thanks so much to the fans who've made Line of Duty such a success. Thanks to the BBC for all their support in making the series. It's incredibly flattering we've been able to attract such amazing talent as Thandie Newton, Jason Watkins and Lee Ingleby to join our brilliant regular cast of Martin Compston, Vicky McClure and Adrian Dunbar. We're all looking forward to tormenting the nation with ever more diabolical plot twists!"
The award-winning series moved to BBC One after its huge success since launching on BBC Two in 2012. This third series was the highest-rating BBC Two drama series ever since current measuring system began in 2002, with a series consolidated average of 5.1 million. The exhilarating 90-minute finale consolidated at 5.6 million.
Line of Duty premieres Sunday March 26th at 9pm on BBC One.