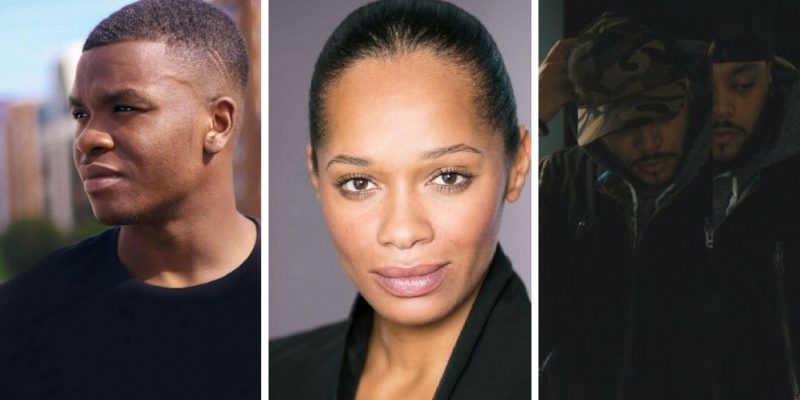 The 4th annual Screen Nation Digital iS Media Awards took place last night (Sunday 14th January) at London hot spot Tiger Tiger. Hosted by actor, writer and producer Nii Odartei Evans and actress, writer and twerk fitness guru Kelechi Okafor, the event shone a light on the amazing work created by black British digital media creatives working across short film, web series, music promos, blogs, magazines, podcasts, talk shows, social networks and more. See below for the full list of winners and here to see all the nominees.
FAVORITE ARTS & ENTERTAINMENT/LIFESTYLE SITE/MAG
LEVILE TV
FAVORITE MUSIC ENTERTAINMENT/LIFESTYLE SITE/MAG
GRM DAILY
FAVORITE PODCAST
20 SOMETHING PODCAST
FAVORITE ONLINE TALK SHOW
BKCHAT LDN S2
DIGITAL ACHIEVEMENT
MANDEM ON THE WALL / THE WALL OF COMEDY
DIGITAL VANGUARD
ELIJAH QUASHIE
FAVORITE ONLINE COMIC PERSONALITY
MICHAEL DAPAAH
FAVORITE COMEDY/BANTER CHANNEL
MICHAEL DAPAAH
FAVORITE WEB SERIES ACTOR
KIELL SMITH-BYNOE
FAVORITE WEB SERIES ACTRESS
SABRINA CHIEMEKA
FAVORITE WEB SERIES
#REALITY S1 – NATHAN BRYON & GRANT TAYLOR
FAVORITE WEB SERIES ENSEMBLE
NATE & JAMIE S1 – KASHIF BOOTH / KASHIF BOOTHE ENTERTAINMENT
FAVORITE DIGITAL CONTENT PRODUCER
THE BRIDGE MEDIA – JOSHUA ADERINOLA
BEST EMERGING (SHORT) FILM DIRECTOR (Jury Vote) partnered with Levile TV
R.M. MOSES
FAVORITE SHORT FILM
ART OF LOVE – DIRECTOR: QUASON MATTHEWS / WRITER: LAUREN CATO
FAVORITE BEAUTY/LIFESTYLE BLOGGER
FUSION OF CULTURES
Congratulations to all of the winners. Make sure you keep your eyes peeled for news about the main Screen Nation Awards, which takes place in February.
Follow @Scene_TV on Twitter and join the mailing list here for the latest news and opportunities.