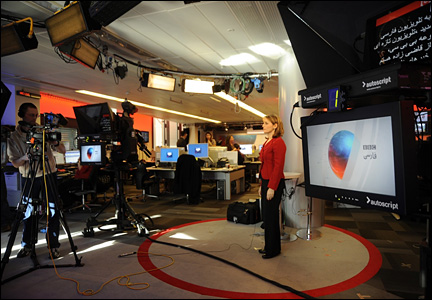 Date: 30th April 2012
Time: 6.45pm for 7.00pm start (finishing at approximately 8.30pm
Location: The Press House Wine Bar, 1 St Bride's Passage, London, EC4Y 8EJ
Cost: £10.00 for RTS Futures members (you must register to become a member before you can attend this event)
The Arab Spring; the News of the World phone-hacking scandal; Osama Bin Laden found and killed; Europe's economy in ruins – the last 18 months has been one of the most tumultuous and newsworthy on record. And with it, has come some truly landmark TV journalism. Alex Crawford's brave coverage of the Libyan war; or Channel 4's RTS-Award winning Sri Lanka's Killing Fields – the British media continues to lead the world in the quality of its broadcast journalism.
But how does somebody at the start of their career go from backroom researcher to battlefront correspondent? How do you succeed in a genre renowned for attracting the brightest and the best brains in the country? And what advice would seasoned hands offer the next generation of budding producers and news anchors?
This latest in the series of RTS Futures Speed Date events focuses on News and Current Affairs programming. Ticket-holders will have the chance to 'speed-date' a roster of top TV talent working across the genre. Each expert is ready and waiting to offer up valuable advice, whether its tips on writing the perfect CV; advice on presenting; or tips on finding and bringing home the big stories – this is the event that gives you the chance to get some answers. You'll have to talk fast though, as you only have 3-minutes to impress them and find out what you need.
Join us for an evening of unprecedented networking opportunities, intimate tête à têtes with the most seasoned hands in the field and a couple of free drinks to boot. For any budding newshounds, this is one event not to be missed!
News & Current Affairs gurus expected to attend include: Cara Berkley, News Producer, ITN; Dorothy Byrne, Head of News and Current Affairs, Channel 4; Alex Chandler, London Tonight Editor, ITV; Martin Fewell, Deputy News Editor, Channel 4; Tom Giles, Editor Panorama, BBC; Krishnan Guru-Murphy, News Anchor, Channel 4; Ed Harvard, Channel Executive, Channel 4; Mary Hockaday, Head of BBC Multimedia Newsroom, BBC; Rob Kirk, Editorial Development Manager, Sky; Pat Loughrey, Chancellor Goldsmith College; Daniel Pearl, Commissioning Editor, Channel 4; Seyi Rhodes, Current Affairs Reporter, Channel 4; Siobhan Sinnerton, Commissioning Editor News and Current Affairs, Channel 4; Ray Snoddy, Freelance Journalist, BBC; Darshna Soni, Correspondent, Channel 4; James Stephenson, Editor 10 O'Clock News, BBC; Hugh Westbrook, Senior Producer, Sky.
N.B: Due to unpredictable nature of broadcast journalism we cannot guarantee that all of the names above will be in attendance. Circumstances permitting, we hope most will be.
How to Book
This event is open to all RTS Futures members but is designed for those with no more than two years' television experience. The cost is £10.00. To book a place you (and any guest/s you book a place for) MUST be a member of RTS Futures. If you are an existing member please ring Callum Stott on 020 7822 2822 with your Credit/Debit Card ready or email callum@rts.org.uk providing your name, postal address, email address and phone number (we will then contact you to request credit card details), otherwise please register as a member at www.rtsfutures.org.uk before attempting to book.
Visit www.rtsfutures.org.uk for further information about RTS Futures
Follow us on Twitter @RTS_Futures
For regular news, updates and opportunities, follow us on Twitter at @Scene_TV and 'Like' the Facebook page: www.facebook.com/SceneTV