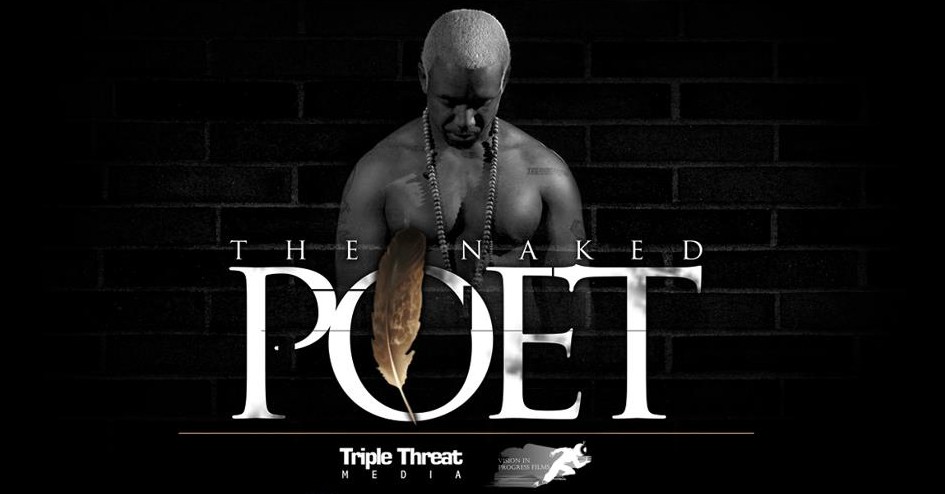 Earlier this month, SceneTV attended the premiere of independent film The Naked Poet. Taking place at the prestigious BAFTA HQ in London, the event was attended by a host of familiar faces including Chucky Venn (EastEnders), Jimmy Akingbola (Holby City) and Louisa Lytton (EastEnders, The Bill).
The Naked Poet is the story of a young poet called Lazarus, who explores the difficulty with matters of the heart. When faced with the painful and confusing decision between long term girlfriend Louise and new found love Simone. Can a man be in love with two women? Can a heart be split in two? Are the sins of the father visited upon the children? These questions and many more are asked, argued and answered in this dramatic thought provoking real to life depiction of middle class urban life.
(Trailer contains language some may deem offensive)
Jason Barrett not only wrote and directed the film, he also played the lead actor Lazarus; other cast members included Petra Letang, Michael Harvey, Kyla Frye, Aml Ameen, Michelle Gayle, Kelle Bryan and Mohammed George. During the Q&A session, Barrett highlighted two key messages delivered by the film 1) dealing with addiction and that often the addiction is transferred rather than dealt with entirely and 2) sins of the father – how childhood experiences can have a profound effect, leading history to repeat itself. Barrett also explained his motivation behind making the film; he said that he wanted to put out something different to the usual 'urban' films that grace the cinema screens. While there is a place for gang/street films, Barrett was concerend about the balance and wanted to show a different lifestyle that exists and that many people could probably relate to more. You know this received a huge thumbs up from SceneTV – we love content that challenges perceptions and tells an alternative story.
I briefly caught up with Kyla Frye, who plays Louise, to talk about her role and hear her thoughts about the British film industry in general:

On her character:
"I fell in love with who she was…and the storyline – every single person whether male or female has been in a relationship where you've wanted with all your heart for it to go right and somehow it just doesn't, for whatever reasons there are…so I really enjoyed the storyline within my character."
On the British urban film industry:
"I think it's very samey, I don't think there are enough people trying to break the mould and shift those boundaries. I think we get caught up in not being brave, trying to fit it, going with what sells, not doing enough to support our community, not doing enough to showcase our community in the light that it actually is. I'm not born on a council estate, I've never been in a gang, I've got a degree, I'm educated, I've got a job – not to say that life was rosy because it wasn't, but what you're seeing out there in terms of urban TV and film in this country specifically is not completely representative of the Black British experience. So I think we need to do a lot more to ensure that we see ourselves accurately refelcted. I think The Naked Poet is a great start and there is a lot more to be done, but I think a new dawn is breaking and I'm excited".
On the popularity of Black British actors in the US and the exodus of some who have gone on to have success in the States e.g. Aml Ameen, David Harewood, Idris Elba, Naomi Harris
"At the end of the day, we all have to go where the best is and Hollywood is often considered that place. A lot of us would love to be able to take the industry we see here to that level because we don't actually have to go to the States for the big breaks that we're all looking, working and praying so hard for. I just think I would love to be able to do that here – first, love to be able to change the industry here – first, love to be recognised in my own country, here…first! I'm not going to lie, if I was offered an opportunity in the States then hallelujah, by all means I will not turn it down but you know, it would be great for things to start happening here where a lot of us have been born and raised so I think it's time that the industry starts catching up with the reality of life. "
Our verdict on The Naked Poet: stand out performance from Petra Letang, whom some of you will remember from EastEnders. She was extremely believable and relateable as a girl just looking for love. Kyla Frye also put in an impressive performance in what was her first feature film; looking forward to seeing so much more from this young rising star! Again, the fact that the film took on a different genre to what is usually expected of 'urban' films is a plus. The Naked Poet was a little long and could have done with being at least 30mins shorter; some scenes seemed to go on longer than necessary. Also in places, the dialogue didn't seem to flow but this could be improved with sharper editing. It is important to note that this film was independently funded the £127,000 budget was made up of Barrett's own money and investment from contacts, so a huge congratulations are in order, especially as this was Barrett's first foray into the film world.
The next step is to obtain distribution so that the film can be shown in cinemas. There have been issues in the past when it comes to securing distribution for 'urban' films so the entire Naked Poet team encourage you to sign the petition to get the film to the cinemas. To sign up, click here and see below for an explanation.
For more on The Naked Poet, visit www.thenakedpoetfilm.com and follow them on Twitter @nakedpoetfilm
For regular news, updates and opportunities, follow us on Twitter at @Scene_TV and 'Like' the Facebook page: www.facebook.com/SceneTV