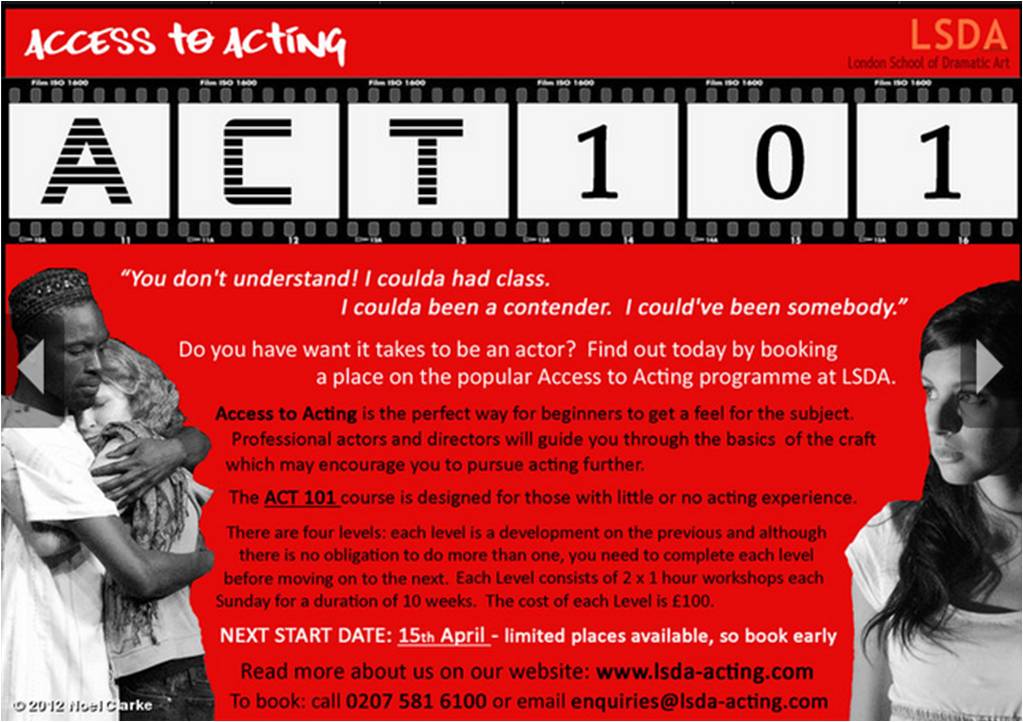 Following the success of the sold out January Act 101 course, the London School of Dramatic Arts has announced that the next Access to Acting course will be in April 2012. British actor and director Noel Clarke recently joined the board of directors at the LSDA.
Do you have a secret ambition to be an actor? Or have you have been told you are a natural performer? Perhaps you want to improve your confidence and find a creative outlet to balance the stress of your work life. Would you like to try out acting but not commit to a full-time course? The Access to Acting program is the perfect way for beginners to get a feel for the subject. It is run by professional actors and directors who will guide you through the basics of the craft which may encourage you to pursue it further. Why not book yourself in and begin the creative journey.
ACT 101
This course is designed for those with little or no acting experience. There are four levels. Each level is a development from the previous, and although there is no obligation to do more than one level, you do need to complete each pervious level before moving on to the next.
The Levels are:
Level 1: Introduction to Acting Techniques, Character Study, Improvisation
Level 2: Voice and Introduction to Text, Monologues
Level 3: Scene Study, Further Character Study, Voice
Level 4: Audition Techniques, Introduction to Basic Camera Acting Techniques
Each Level consists of 10 x 2 hour workshops. These take place on a Sunday for duration of 10 weeks. The cost of each 10-week Level is £100, which works out at just £10 per 2 hour class.
For more information, visit www.lsda-acting.com. To book, call 0207 581 6100 or email enquiries@lsda-acting.com
For regular news, updates and opportunities, follow us on Twitter at @Scene_TV and 'Like' the Facebook page: www.facebook.com/SceneTV