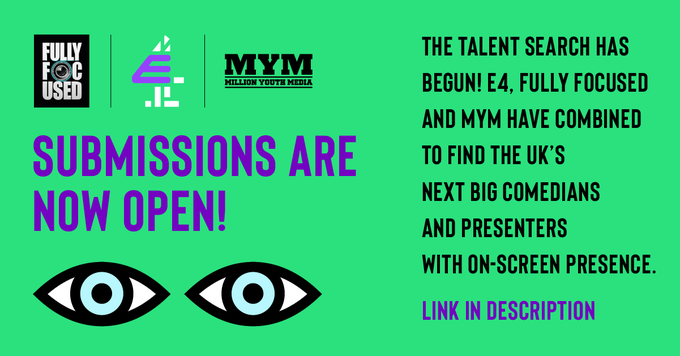 Fully Focused & MYM have joined up with E4 to search for the next generation of stars. Are you a comedian or presenter with next level talent and onscreen presence? This could be your time to shine…You can apply by yourself or as a double act.
The search aims to uncover talent from a range of different backgrounds and from across the country, who do not have substantial mainstream or terrestrial broadcast experience. Successful applicants will not only be given training to help with their development, they will also receive exposure on E4, which could see them across digital content, social media, in-vision continuity or starring in new shows.
E4 has strong heritage as a launchpad for talent, kicking off the careers of well-known names such as Michaela Coel, Russell Brand and Daniel Kaluuya.
Fully Focused is an award-winning non-profit production company who use film to challenge perceptions and progress young lives. 100% youth driven, they work with a team of 35 16-25-year-old diverse creatives, many of whom might not otherwise have had the opportunity to work in the industry. The team of young people work on every production from pitch to post, and curate content from an exciting pool of up and coming young filmmakers on Youtube channel 'MYM', one of the fastest growing platforms in the UK for content made by and for young people. Content includes documentaries, films, music videos, news reports and online content. Its most successful productions have featured some out-standing young talent currently making waves in TV and film including Percelle Ascott, Joivan Wade, Kayode Ewumi, Mandip Gill, Rita Bernard-Shaw, Harry Kirton, Aimee Kelly, Shaquille Ali-Yebuah, Simona Zivkovska and Mia McKenna-Bruce.
Leah Henry, Business Development Manager at Fully Focused said "Fully Focused are super amped to get started on a Nationwide search for the new faces of E4. We're excited that a major broadcaster has the vision to breathe new life into who and what we see on our screens. With our past, present and future dedicated to nurturing young talent, Fully Focused are perfectly placed to unearth the next generation of on-screen personalities – it's what we do!"
Click here to apply – and good luck!
Follow @Scene_TV on Twitter, @SceneTV_ on Instagram and join the mailing list here for the latest news and opportunities.