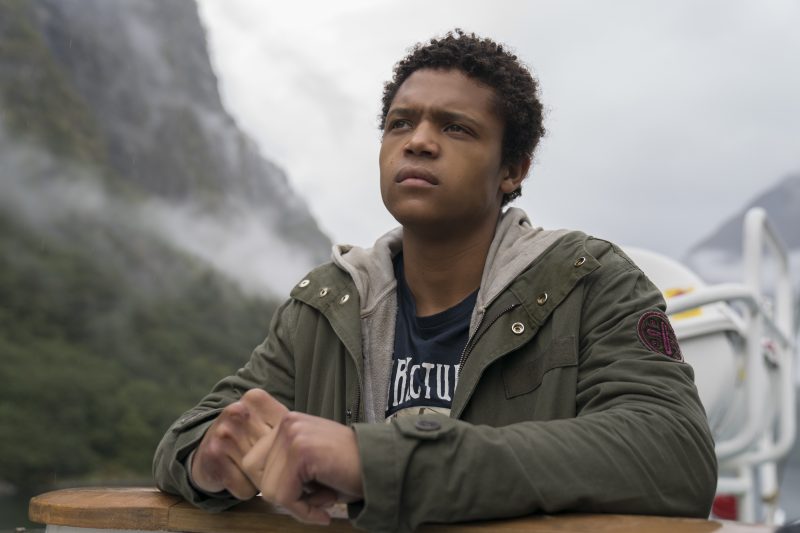 Ring the alarm, your new Netflix series binge is sorted. Eight-part drama The Innocents tells the story of runaway teen lovers June and Harry, who find themselves swept up in a dangerous and confusing new world when June begins to display mysterious abilities. Bright young stars Sorcha Groundsell and Percelle Ascott take on the two lead roles.
Despite his youth, Percelle is no stranger to the industry. He has appeared in CBBC's Wizards & Aliens, E4's Youngers, Silent Witness and was a lead in teen movie The Weekend. He is also co-founder of online platform and production outfit Wall of Comedy. I sat on the sofa for a chat with this leading man to find out more about The Innocents and why everyone is raving about it.
Tell us a little bit about Harry, the character you play, and the journey he goes on.
Sure, I play Harry Polk – he's 17 and he's from Yorkshire, originally from London. He's the type of person to make the most noise in the room but is often the loneliest. This is the reason why, when he meets June, he's able to escape from his reality and the pressuresof home. Harry is the chief carer for his Dad, who is in a catatonic state. His mum is a detective working all hours so she's not able to be there. Because of this pressure, wanting to find himself and also the fact that he's falling in love with June (a girl he met at school) he wants to run away with her. They want to find a life together in London and they go on this adventure.
Running away was always going to change the relationship dynamic, but when June's almost kidnapped, they discover she's a shapeshifter. From that point on, the conflict begins with Harry trying to accept June for who she is. How do you accept that? Whenever I see something supernatural in my life, I don't want to believe it – that's human instinct, perhaps based on fear. But Harry has to learn to accept who she is and that ties back to love; what is love? Love isn't just a feeling, it's an action and there were moments in the series where he falls out of love with June, but he still loves her because of the action. He learns this through the journey they go on together.
It's interesting you reference that. I'll be honest, sci-fi or supernatural dramas are not really my thing but I was so surprised when watching this because it's about love, belonging, and identity which resonates with people everywhere regardless.
Yes! Yes! You've connected it. This is the thing we've been talking about, even the writers; we said look, if you take shifting out of this, does this story still stand on its own? The shifting thing is a device to talk about identity, being accepted and also finding out who you are and being comfortable in your own skin. Even in life, we evolve and shift all of the time. If I enter a new relationship, if I get married, if I have kids, if my work changes, as the years go on we keep changing. The question is, who are you in each of those different circumstances? Who am I when I am a father, who am I when I'm a married man? Whatever the circumstance, it's constantly "who am I?", and we don't stop searching for who we are as a life progresses.
And who are you now? You walked right into that one!
(Laughs) Erm…I'm still finding out who Percell is. There are still things that I discover about myself that surprise me; my strengths and even my weaknesses, but I think that's what makes me who I am. The imperfections show that we're human, we keep growing and keep on learning, we're open to accepting new challenges and change. What I can say to you is that I'm comfortable with who Percell is. Even from the perspective of going through this journey as an actor – I've been acting for about 8 years but I understand how to also separate myself from it. Sometimes we can place our happiness in acting and that's not healthy. So I like to talk about the anxiety actors experience; we go through constant rejection so me understanding how to separate that is important. Also, being able to create and produce projects of my own is great. I'm happy that this show is coming out because now I have the opportunity to show people and the world what else I can do.
I wanted to touch on you and Sorcha Groundsell (who plays June). The chemistry between the two of you is amazing. It was quite emotional at times; how did you develop that connection?
We didn't know each other before; we had one audition and we were seen for the chemistry tape. That's the thing about chemistry, how long is a piece of string? Chemistry just is or it isn't, it's about how energies come together. The thing with me and Sorcha is that we're newcomers to working on a big project so we're going to go through overwhelming feelings and anxiety, but the beautiful thing about that is we're doing it together. We can confide in each other and check in to see how the other is doing. There would be times I'd say "wow, that was a really bad take, I'm sorry" and she'd say "no, no let's keep rolling". I think showing our vulnerabilities is an important part of chemistry. And communication – just being able to speak and ask questions allows us to have the kind of chemistry that Harry and June have. In fact, our relationship is built in a very similar way to Harry and June. They run away and are finding out about each other, Sorcha and I were away filming for seven months – that's a long time so we have been learning so much about each other.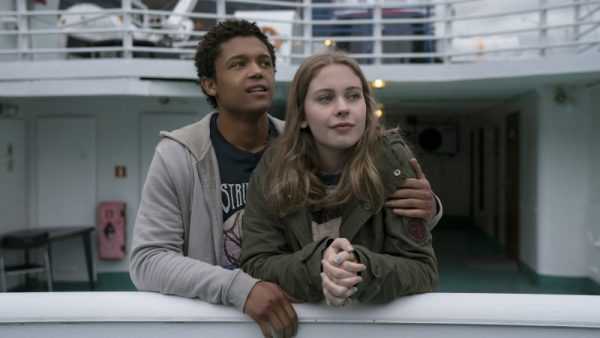 Another person I'm sure you learned a lot from is Guy Pearce. A man with decades of experience in the business. Did he give you any tips on set?
One thing I will say about Guy is that he's a very selfless man and someone who doesn't have that "I'm Guy Pearce" Hollywood energy. As someone in this industry, it was good to witness and go – okay, there are other people who carry themselves in the way I'd like to and are professionally disciplined. With my relationship with Guy, I wanted to keep it organic and not run up to him like "let me ask you loads of questions". When I worked with him, all I did was observe; just watched how he worked on set and how he worked on his script. Whenwe had scenes together, it was go-time; I just needed to remember to be me and trust my own instincts. He allowed me to do that because he made me feel comfortable in the space.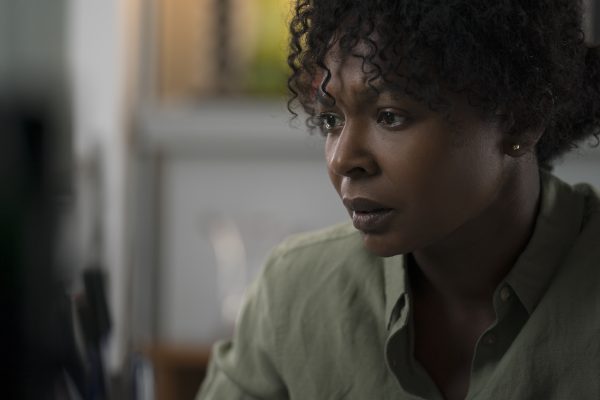 To add to that, I didn't just learn from Guy, I learned so much from the whole cast. We had an amazing Scandinavian and British team of actors. I'd like to drop in Nadine Marshall; she plays my mum and I love her. I watched her when I was 14 years old in a film by Debbie Tucker Green called Random, which blew me away. When I connected the dots I was like "oh my gosh Nadine, I saw you in this when I was 14!" We live so close to each other as well; honestly we have such an amazing chemistry together, I just want to keep working with her basically.
I'm so glad you mentioned Nadine, she's brilliant.
Yeah, she is.
On Netflix as a platform, it's been killing it recently, especially in the young adult genre with shows like 13 Reasons Why, To All The Boys I've Loved Before and now The Innocents. Why do you think it's connecting so well with young audiences, what's the secret ingredient?
I think there are few variables. One of those is that they trust new talent. To lead a show like this is so rare, but they trust new creatives. They invest in innovative ideas that push the boundaries and take risks and this show does that. And these two young characters are not one-dimensional. There are so many complexities; it's an emotional rollercoaster, even as an actor to perform. The complexity is what we identify with. Watching shows, I just want to see myself on a TV screen. I want to go "that's exactly what I go through"; I'm not always just happy or just sad, there's a complexity of emotions. To see that from young characters is very refreshing so I commend Netflix for taking the risks they do and allowing creatives to be free to create.
And you're a creator yourself as the co-founder of content platform Wall of Comedy. What have you learned from Netflix and this whole process…(Percelle starts to laugh) Why are you laughing?!
Because my my affair with Netflix started a long time ago. I went to a convention in Paris in 2016 where they look at 'what's next' in the industry and I was in the audience watching, learning and listening to Reed Hastings, the CEO of Netflix. I took in what he was saying and thought about how I could apply it to Wall of Comedy. At the same event, I randomly met Farren Blackburn, the director of The Innocents. We had a quick chat, I don't know what we were talking about – maybe football, then two years later I see him in the audition room. I was like "Farren, this is crazy". I'm a producer as as well so I am learning so much about Netflix's ethos as a company and why they're successful. For myself and Joivan Wade, my producing partner, we are taking all of our experiences from our individual careers and putting it together. We want to keep on learning and growing and hopefully we can create shows like this ourselves in the future.
Sounds like an exciting future ahead. But let's take it back to your roots for a second. You have Zimbabwean heritage, correct? How has that impacted your career as an actor and even the path you have taken?
A massive, massive amount! My mum is here today and I took her on tour with me; the whole promotion in America and Mexico. A big thing with being Zimbabwean is that the trajectory and the expectation isn't to lead a Netflix show! Maybe it's an African thing, maybe a part of our community, but very early on in life we get told "you've got to work as twice as hard", straight up. And being a creative can be a difficult thing for African parents to understand because you come from families where going for the academic route is the way to go. But my family were all very open to me being actor and I started when I was 14. I just want to make them proud and I carry Zimbabwe so proudly and close to my chest. It's a massive part of my DNA, my roots. I'm never going to forget who I am, where I come from and get lost in the sauce of this industry. We did (our web series) Mandem On The Wall; that had a trajectory but we didn't get our TV show commissioned when we did Youngers and you're like "what do we do next". But that's just the nature of show business. Whatever happens, you've got to keep going and going, creating your own path.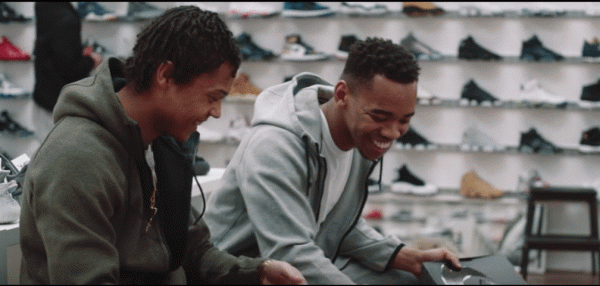 So in terms of creating your own path, what is what is next for you?
We just finished a production very close to my heart, Shiro's Story. We had part 1 in March, part 2 in June and respectively they are both on 3 million plus views; it's taken everyone by storm – and I say that very modestly.
But it's true, you're talking facts so own that!
Yeah, I'm happy about it because it started from a very organic place. Joivan and I met Rapman, the artist behind it. We heard the song but we heard it as a script. We were like "this is so crazy" – it almost reminds me of Michael Jackson's Thriller and how iconic it was to mix music and cinematic experiences together. Shiro's Story doesn't feel like a music video, it's a short film, it's a movie. Our aim is to grow Wall of Comedy and keep pushing it, take it to the States and release part 3 of Shiro's Story and hopefully get a commission from whoever. That's the dream.
Final question, If you could shapeshift into anyone, who would it be and why?
Such a good question. I would like to shapeshift into everyone that inspires me. I believe success leaves clues but everyone's journey is different. I don't think that's one way of excelling or being successful. I'd like to shift into everyone who said or did something inspiring and learn from their journey and experiences. Ultimately, shifting is so beautiful because it's about learning about different perspectives and how that reinforces your own thoughts about who you are. If we could shapeshift, we could understand each other's struggles and say okay cool, this is why we're all in conflict, we get it and now we can understand better and try to love instead.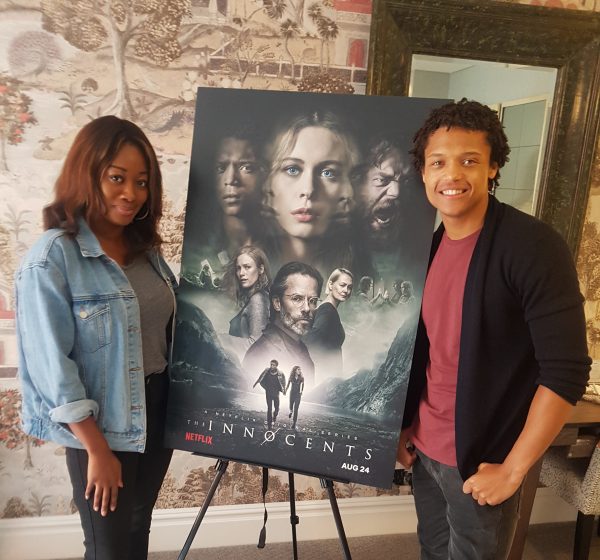 SceneTV Editor Michelle Owusu with Percelle Ascott
—–
There's no denying that Percelle is a star on the rise and with his amazingly positive and humble attitude, we can only look forward to seeing him shine.
The Innocents is available on Netflix now.
[Interview edited for length and clarity].
Follow @Scene_TV on Twitter and join the mailing list here for the latest news and opportunities.​