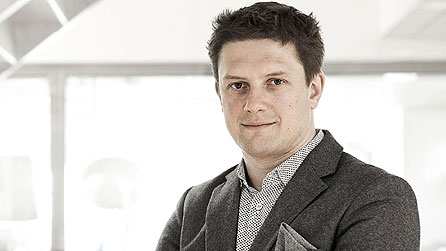 Zai Bennett, Controller of BBC Three has announced a number of new commissions for the channel including a gang documentary fronted by Reggie Yates and a new comedy show starring Jack Whitehall. See below for more info from BBC's Media Centre. To read our interview with Zai Bennett from earlier this year, click here.
Press Release
Zai Bennett, Controller, BBC Three, today announced three brand-new comedy series for the channel – Bad Education, written by and starring Jack Whitehall, Some Girls written by Bernadette Davis (Game On) and The Revolution Will Be Televised with Heydon Prowse and Jolyon Rubinstein.
He also confirmed the re-commission, for a third series, of critically-acclaimed, anti-romantic sitcom Him & Her starring Russell Tovey and Sarah Solemani and the re-commission of new sitcom Pramface ahead of series 1 airing this winter.
Zai also announced a new multi-series deal for the ever-popular Russell Howard's Good News for the channel.
In further developments Zai confirmed a major new investment in developing original comedy with six full pilots for the channel's new online initiative The Comedy Kitchen as well as BBC Three becoming the home for all original long and shortform online comedy across the channels.
He said: "BBC Three is the channel that breaks new comedy in the UK. We are delighted that Bad Education, Some Girls and The Revolution Will Be Televised are joining our already exciting stable of comedy.
"Our additional investment in The Comedy Kitchen and further online investment not only gives new talent and writers the time to grow and develop, but also ensures there is a clear nursery slope for them on to the channel, where we back series like Pramface with two series orders up front."
Zai also unveiled a new factual season of programmes on crime to sit alongside the Sex Season which was announced earlier this month and a series challenging young dads to deliver their own babies.
"Our mission is not only to make our audience laugh, but also to make them think. Our season of programmes around crime and justice will look at what it's like to be a young adult in the UK today from the perspectives of both the victims and the perpetrators of a crime. We have a huge range of thought-provoking, real-life stories from My Murder to Underage, Graphic And Criminal which really get under the skin of crime from a young adult's perspective.
"Continuing our tradition of formats with purpose we're also challenging new dads-to-be to train up with midwives and get involved in delivering their own babies in Don't Mind Him, He's My Midwife."
Comedy
Pramface
Bad Education is written by and stars Jack Whitehall. He plays Alfie, the worst teacher ever to grace the British education system. 6×30 mins produced by Tiger Aspect.
The Revolution Will Be Televised: Newsnight meets Trigger Happy TV, The Revolution Will Be Televised sees Heydon Prowse and Jolyon Rubinstein take on the not-so-good of Westminster, self obsessed and narcissistic celebrities, bonus-embezzling bankers as well as anyone else they think deserves their attention. 6×30 mins, a Hat Trick production.
Some Girls, written by Bernadette Davis, is a comedy about the kind of girls more usually seen in worrying documentaries about inner city teens. The series centres around a group of 16/17 year old pupils at Lady Elizabeth Holloway Comprehensive School in London. 6×30 mins, a Hat Trick production.
Pramface (series 2) follows couple Laura (Scarlett Alice Johnson) and Jamie (Sean Verey) as they continue their tentative and unexpected journey into parenthood following a brief, drunken hook-up. Written by Chris Reddy, Pramface is a BBC/Little Comet production. 6×30 mins.
Him & Her (series 3), written by Stefan Golaszewski, stars Russell Tovey and Sarah Solemani as Steve and Becky – the anti-romantic couple. 6×30 mins, produced by Big Talk.
Comedy Kitchen Pilots
These web pilots, which form The Comedy Kitchen season, will be available to view via BBC Three's website and on BBC iPlayer.
Impractical Jokers is a comedy/entertainment show where four comedian friends compete in unbelievably awkward real life scenarios that they set for each other – all recorded by hidden cameras. 1×30 mins produced by Yalli Productions, part of Shed Media.
The Imran Yusef Show is a mix of stand up and sketch from this fast and furious, unique comedy voice. 1×30 mins, produced by Brown Eyed Boy.
People Just Do Nothing is a mockumentary following a group of wasters from Brentwood trying to run a pirate radio station. 1×30 mins, produced by Rough Cut.
The Boy With Tape On His Face was nominated for Edinburgh's Best Newcomer Award last year and was the breakout hit from BBC Three's multi-platform Edinburgh coverage this year, The Boy With Tape On His Face has already attracted a world-wide following and amassed over 100,000 YouTube hits for his BBC clips alone. 1×30 mins, produced by BBC In-house comedy.
Dawson Brothers Presents is a single-camera, fast-paced 30 min sketch show based firmly in contemporary culture and modern day truths. Written by Steve, Andrew and Tim of the Dawson Bros. 1×30' produced by BBC In-house comedy.
Alison Jackson's Breaking News (working title) is a spoof news show poking fun at celebrities using lookalikes. 1×30 mins, produced by Jonathan Levi and Iain Thompson at iEntertainment.
Crime Season
In this thought-provoking and hard-hitting season, BBC Three looks at how crime affects the lives of young people today and brings you the human stories behind the startling stats, from the perspectives of both the perpetrators and the victims.
My Murder
A chance meeting with a young girl ends in tragedy in this gripping 60-minute factual drama for BBC Three. My Murder tells the true story of Shakilus Townsend, a 16 year old boy who was led to his death by the 15 year old he thought was his girlfriend. She was dubbed "the honey trap killer" and the case dominated front pages for weeks. My Murder is a raw portrait of young people's hopes and fears as they struggle to grow up on our streets. 1×60 mins from BBC Current Affairs.
Underage, Graphic And Criminal
Many of the crimes committed by teenagers in the United Kingdom are captured in self-shot footage from bystanders, victims, and often the offenders themselves, whilst others are caught on the four million CCTV cameras nationwide. This series explores the human stories behind these shocking real-life scenes of violence, theft and mayhem. 4×60 mins, from Minnow Films.
Prison, My Family And Me (wt)
Prison, My Family And Me features three films about young people trying to grow up while their carers are in prison or facing a prison sentence. What's it like to be a teenager – dealing with all the usual pressures of growing up and at the same time, having to cope with the stigma and stress of your loved one being in and out of prison? Are you better off without your mum or dad if he or she can't look after you? And is it possible, if they are in prison, to carve out a brighter future for yourself? 3×60 mins, from Fresh One productions.
Teenage Gangs UK
Radio 1 DJ Reggie Yates investigates the culture of fear, anger and violence which drives the dangerous world of teenage gangs. In a bid to understand how people get drawn into this murky world, Reggie meets the teenagers who see gang membership as one of the few ways of being accepted in their area. He also talks to young people who are trying to break free of a life of gangland crime and meets the former leader of the most feared street gang in South London. 1×60 mins, from Mentorn Media.
My Mugger And Me
My Mugger and Me is an emotional and compelling film that reveals the human stories behind the crime statistics, as three young people meet their assailants in a bid to come to terms with being a victim of crime. The range of stories will provide an unflinching look at the profound personal impact of mugging on young people from all walks of life; our contributors' testimony offering a vivid insight into both the crimes and the full extent of the aftermath. 1×60 mins, a Renegade Pictures production.
Rape: Don't Call Me A Liar
This film investigates the issues surrounding rape and sexual violence in the UK where a criminal justice system is failing victims, and actively discouraging women who are raped from coming forward to the police. Given the horrific and serious nature of the crime, why do so few cases come to court, and why are conviction rates so low? We meet the survivors of rape who feel that the system has completely let them down. 1×60 mins, from BBC NI Current Affairs.
Factual
Don't Mind Him, He's My Midwife
Next year marks the 50th anniversary since a ground-breaking report first suggested that men should be allowed in the delivery room to be with their partners. But a recent report from the Royal College of Midwives suggests that fathers should be encouraged to take on more of a role in maternity care. BBC Three is taking things a step further and setting two fathers-to-be the ultimate challenge – delivering their own first-borns. 6×60 mins, from BBC In-house Entertainment.