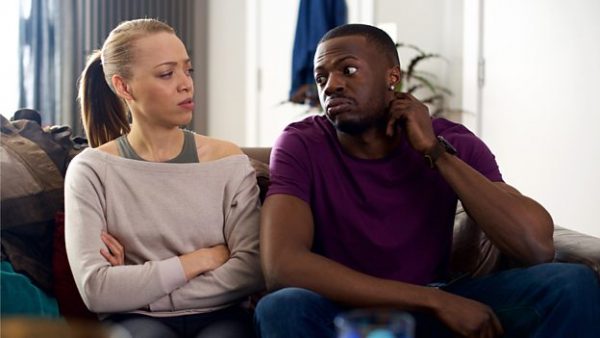 Reposted in part from British Comedy Guide
BBC Three have released Just A Couple, a sitcom series about a millennial couple in love dealing with all the trials and tribulations this presents. The six-part series was created, written and directed by Sebastian Thiel, whose past credits include short films including Fill Me In and Illegal Activity. Just A Couple was actually an online web series before it was picked up the BBC.
Starring Michael Salami as Mark and Frieda Thiel as Shavon, much of the action in the 10 minute episodes is set in the couple's flat. Episode 1 of the new series sees the couple taking a relationship quiz and asks the question 'Should you ever really ask your boyfriend what he would most like to change about you physically?'. Episode 2 focuses on the concept of 'TV cheating' – when Mark finds out Shavon watched a whole series without him, he decides to see how far she'll go to keep her 'affair' secret.
The series has been developed and filmed by Big Talk Productions, the company behind established TV hits such as Mum and The Job Lot.
Just A Couple will be broadcast on BBC Three's YouTube channel and website in weekly instalments; you can watch Episode 1 below: